Does Insanity Make Your Legs Thinner?
With a name like "Insanity," you know the workout is going to be hard—but is it hard enough to shed fat from your body, including your legs? The home workout program was created by fitness trainer Shaun T, and its DVDs feature a fitness test and nine workouts.
Complete one DVD each week, following the sequence suggested by the Insanity workout program. These workouts combine cardio training with interval training and plyometric exercises, all of which are likely to build muscle in your legs if you stick to it.
Losing Fat
The whole process of losing weight is predicated on eating less and moving more. While the "eating less" part is up to you, Insanity workouts can definitely help with moving more. While the company behind Insanity, Beachbody, claims that you can burn up to 1,000 calories during a 60-minute workout, the actual calorie burn will depend on your age, gender and weight.
You can't choose when you will lose fat. However, if you are successful enough in your nutrition and fitness program, your legs will eventually slim down, too.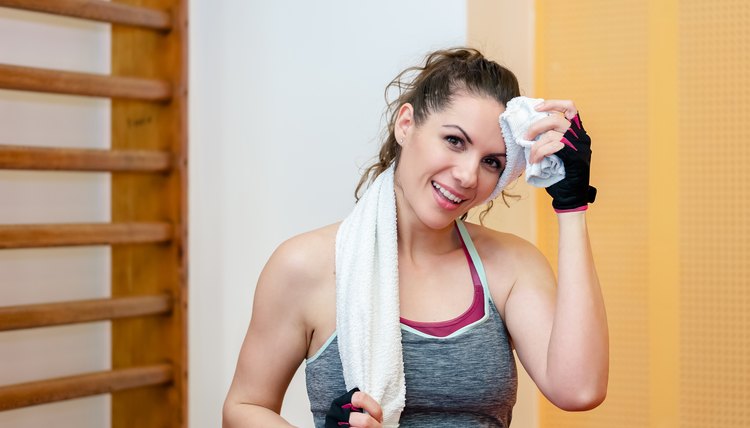 Does Insanity Make Your Legs Thinner?
Toning the Legs
The Insanity program will help you develop the trim, muscular legs you desire. Specifically, the second workout, "Plyometric Cardio Circuit," and the eighth workout, "Max Interval Plyo," are designed to tone and strengthen your lower body and legs.
Some of the workouts for other weeks focus more on the upper body or the abs, though they will certainly help with overall fat loss. However, as a result, you might wish to supplement your workouts with other lower-body exercises during these weeks to continue working on your legs.
Other Leg Moves
You can't — nor should you — do the Insanity workout every day, so to thin out and strengthen your legs, incorporate other lower-body movements into your regular routine.
Climbing stairs is one way to strengthen and tone your legs and, contrary to the myth that stair-climbing only builds bulky muscles in the legs, it tones the butt as well as the legs and builds lean muscle. Focus on activities that combine speed with resistance to build lean muscle, such as cycling or running.
References
Writer Bio
Natalie Smith is a technical writing professor specializing in medical writing localization and food writing. Her work has been published in technical journals, on several prominent cooking and nutrition websites, as well as books and conference proceedings. Smith has won two international research awards for her scholarship in intercultural medical writing, and holds a PhD in technical communication and rhetoric.