How to Keep My Hair Sweatproof During a Drenching Workout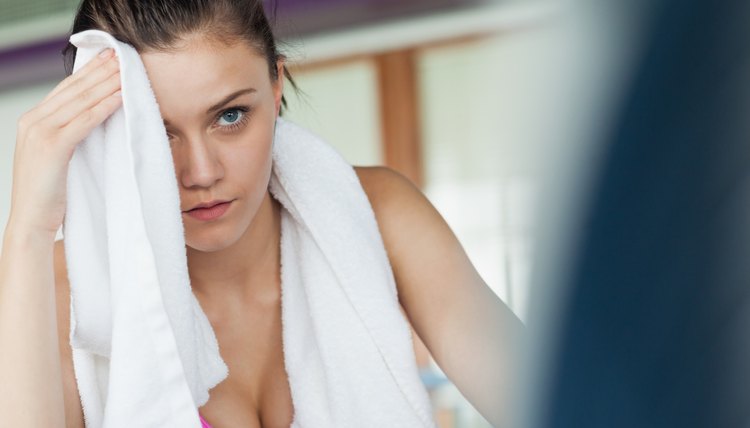 A vigorous workout can leave you drenched with sweat from head to toe. But on a day when you don't have the time or the capabilities to shower and wash your hair after a workout, you may be hesitant to exercise. Don't let the fear of sweaty hair keep you from achieving your workout goals. Prepare your hair before your workout, and you can head out after your exercise without looking like your hair is sweat-soaked.
Put It Up
Get your hair off of your neck before exercising, and your locks will be less likely to cling to your sweaty skin during and after your workout. Pull your hair up into a high ponytail or bun to keep it completely out of your face while you get sweaty. Secure your hair with an elastic band and as many bobby pins as you need to keep it all in place. Rub a small amount of hair gel or pomade over your smoothed-back hair to keep stray hairs secure and protect your hair from exercise-induced sweat.
Get Professional Help
Ask your hairstylist to recommend any products that can help keep sweat off your head as you exercise. He may be able to offer advice on what products you can use to sweatproof your hair. Or he may show you a style or two during your appointment that you can recreate on your own before you head to your next workout.
Try a New Look
If your hair always looks sweaty and disheveled after a workout, consider changing your look to suit your active lifestyle. Braids, such as cornrows, can help sweatproof your hair and leave your hair looking pulled together, even after vigorous exercise. You can also opt for a shorter hairstyle; going from a shoulder-length hairstyle to a chin-length bob offers you flexibility by giving you less hair to worry about keeping out of your face and sweat-free.
Repair Your Hair
If your hair looks a bit sweatier than you'd like after your workout, you don't have to take a shower to make your hair look presentable again. Use a blow-dryer to dry almost all of the residual sweat in your hair. Rub a small amount of hairstyling cream through your hair, then finish blow-drying to reduce frizziness and restore your hair's natural shine.
References
Writer Bio
Leigh Good has been writing for magazines and newspapers for more than 10 years. Her work has been published in numerous print and online publications. Good has a bachelor's degree in print journalism from Georgia State University.