How to Become a Professional Volleyball Player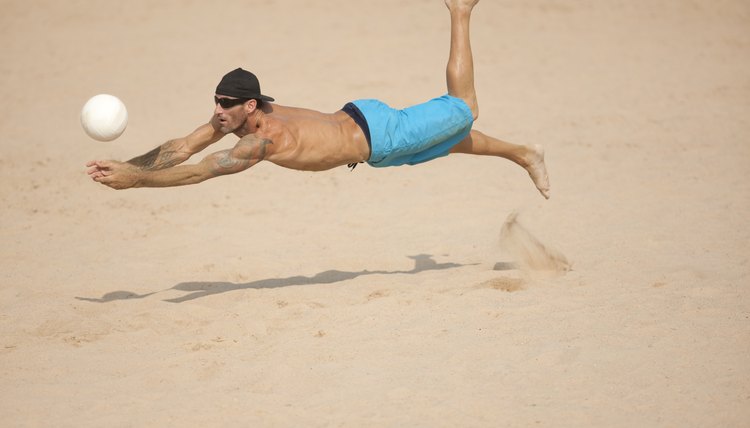 Volleyball is a popular global sport with indoor and outdoor leagues. The Federation Internationale de Volleyball governs the sport internationally; in the U.S., the Association of Volleyball Professionals acts as the primary governing body. The world of professional volleyball is highly competitive: elite players on high ranking teams have the potential to earn hundreds of thousands -- or even millions -- of dollars and one of the 12 spots on the U.S. Olympic team. However, players hoping to succeed in professional volleyball must have incredible skill and training and be able to navigate the complex global network of volleyball leagues.
Create a Training Regimen
As with all sports, training and conditioning are important to becoming a professional volleyball player. While training, certain drills can help volleyball player's improve their performance. Free Ball Transition drills help players establish better footwork and offense skills while Pepper drills help improve ball control. Playing volleyball for fun is much different than for sport and requires a high level of endurance, proper diet and physical ability.
Join a Collegiate Team
Volleyball players can gain recognition playing for top college teams. In 2013 Penn State had the highest ranked women's volleyball team, with a record of 34-2. In 2014, Loyola Chicago held the number one ranking for men's volleyball with a record of 29-1. Being part of a top-ranked collegiate team can help provide a player with myriad opportunities, including playing in tournaments at home and abroad.
Join the AVP
Established in 1983, the Association of Volleyball Professionals is the leading organization governing American volleyball. Membership in the AVP gives athletes the opportunity to compete in a wide range of competitive events. Many members of the AVP have gone on to win Olympic medals. Such opportunities can open the door to lucrative endorsement deals at home and abroad.
Play Abroad
Athletes seeking to play professional volleyball at home may want to consider playing for an overseas team. According to the New York Times, several professional organizations abroad offer visiting players the chance to play, including Russia, Italy and Brazil. These organizations provide these elite, high-performing players opportunities to make millions of dollars. The players keep most of their earnings, as their overseas organizations often cover their room, board and other expenses. However, some teams only open limited slots for non-native players, and playing in an unfamiliar country can be stressful for some athletes.
Make the Olympic Team
To be selected to participate on an Olympic team, athletes must win a series of competitions. The host country's team is automatically granted entry. Next, the first, second and third place finishers of the FIVB World Cup and one pair from each Continental Qualification Tournament compete in the winter of the Olympic year. Then, three team pairs from the World Olympic Qualification Tournaments compete to determine the final slots of volleyball teams who will represent their countries in the quest for Olympic gold.
References
Writer Bio
M. Skylar Ezell has been writing about politics, entertainment, urban culture and career-related topics since 2007. His communications work for Fortune 500 companies in health care, technology and hospitality has resulted in international recognition, including the Association for Talent Development BEST Award and Achievers Global Award. He is a graduate of Georgia State University, where he received a Bachelor of Arts in journalism and public relations.