How to Build an Indoor Tennis Court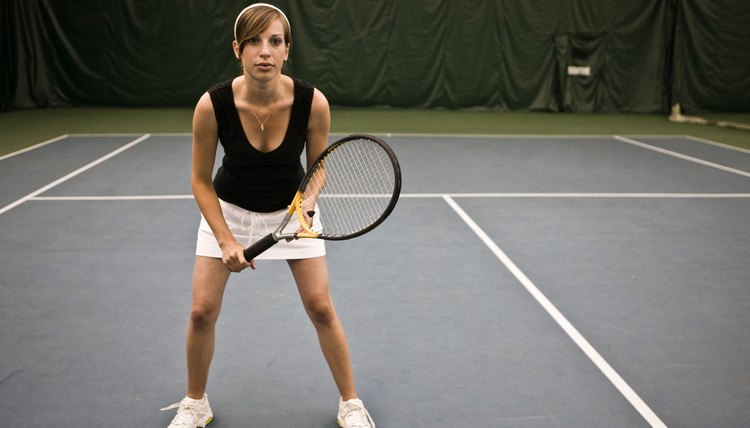 An indoor tennis court gives you a year-round location to play. It protects you from the elements but may change the dynamic of your game. On an indoor court, ball speed is increased, which forces you to better control your shots. Building an indoor tennis court is a large undertaking, requiring enough floor space to house the court and enough height to accommodate overhead lobs. This is not a job you probably want to do on your own, but it is important to know what is involved so you can stay on top of a contractor doing the bulk of the work.
Determine if you have a building large enough to house an indoor tennis court. The floor plan must be able to fit a tennis court with dimensions of 78 by 36 feet, 18 feet behind each baseline and 12 feet on each side of the sidelines to give players enough room to safely run. You also need at least 35 feet from the floor to the ceiling at the center net line, according to the United States Tennis Association court regulations. There can be a slant to the ceiling as long as there is at least 20 feet over the baselines.
Determine your budget. It may take 16 to 28 weeks or longer to build the structure and cost from $15 to $75 per square foot, according to Indoor Courts of America.
Hire a contractor to construct your indoor tennis court. If you are starting from scratch, you will need permits and approval to build the structure. There are three basic structures considered: a bubble, a steel-covered court and a permanent building. Choose the structure based on your overall budget.
Choose your court surface. You can choose from concrete, carpet or sport-court flooring.
Build the structure and lay the foundation required for your court surface. Your contractor will be able to guide you on the required depth of the court foundation to accommodate frost conditions.
Net posts should be set with the foundation. Posts should be 42 feet apart along the center court line.
If you are using concrete, you may want to use two colored concretes to make the interior court stand out from the exterior court.
Lay your court. If you are using concrete, this means painting your lines. If you are laying carpet, you will lay a 1-inch pad and then the carpet before you paint the lines. Be sure the seams are kept smooth to prevent fraying. Sport courts are usually laid in pieces with the lines already on the pieces.
Install the net. Nets lace up along each net post, pulled taut so that the net is 39 inches tall at the net posts and 36 inches in the center of the net. You can adjust the center net height with the center strap provided with your net purchase.
Writer Bio
With more than 15 years of professional writing experience, Kimberlee finds it fun to take technical mumbo-jumbo and make it fun! Her first career was in financial services and insurance.