How to Buy an NHL Team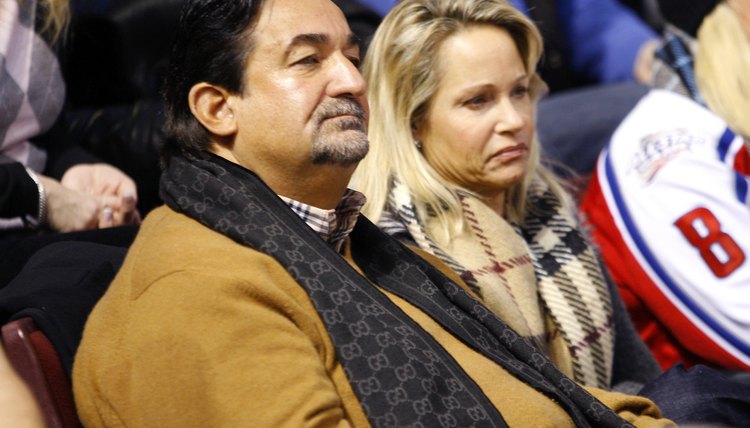 Professional sports franchises are one of the hardest businesses to run. The quality of the product changes year-to-year, revenue streams have a ton of moving pieces and costs can escalate in the blink of an eye. It's probably why most owners of NHL teams are accomplished billionaires from diverse backgrounds. It takes a lot more business acumen than running the average business.
Steep Price Tag
When Terry Pegula paid $1.4 billion for Buffalo's NFL franchise in 2014, it dwarfed his investment in the city's NHL team, the Sabres. Pegula paid only $189 million for the hockey team in 2011, which is actually cheap by the NHL's standards, too. The same year Pegula bought the Sabres, Forbes reported the average value of an NHL franchise was about $240 million. There is a huge disparity in price tags, though. The suffering Atlanta Thrashers were sold for just $110 million in 2011. On the other side, George Gillett sold his 80.1-percent stake in the hallowed Montreal Canadiens for over $500 million in 2009.
Get Settled
Too often, there is a mad scramble among potential ownership groups to buy a struggling franchise which they believe can be relocated to a promising new market, such as Kansas City or Quebec. But to avoid moving trucks in the middle of the night right after closing, the NHL Board of Governors inserted the "seven-year rule," which states that a new owner cannot relocate the franchise within seven years of buying the team. This was the sticking point that ultimately doomed Research In Motion founder Richard Balsillie's three attempts to procure a team for his beloved Hamilton, Ontario. In some cases, the former owner can relocate the team as a contingency prior to sealing the deal, such as when the Atlanta Thrashers were moved and sold to a group in Winnipeg, Manitoba in 2011. Even in that scenario, when relocation was evidently beneficial to all parties, the league charged the owners a $60 million relocation fee.
Politics on Board
Any new purchase of an NHL team must be approved by the league's Board of Governors, which is comprised of some of the more established owners in the league. The board not only establishes the rules of membership in the NHL ownership fraternity, but decides what, if any, help the league may offer franchisees in negotiating arena leases or other related legal matters. Balsillie's bid to buy the Phoenix Coyotes out of bankruptcy in 2007 was essentially sunk when members of the board, such as Minnesota Wild owner Craig Leipold, painted Balsillie as deceitful and uncooperative.
Understanding Costs
NHL franchises are not turnkey operations. Teams that turn a tidy profit are rarely on the market. Since the 2004-05 season was lost to a labor dispute that aimed to create more financial stability for teams, the Phoenix Coyotes, Nashville Predators and Atlanta Thrashers have all at some time been in bankruptcy or in the early stages of filing. Owners are faced with huge challenges in boosting revenue or cutting costs. The biggest cost -- players' salaries -- has a mandated floor as spelled out in the 2013 collective bargaining agreement. For the 2014-15 season, the NHL set the minimum team payroll at $51 million, with a cap of maximum $69 million. .
Revenue Streams
The biggest sources of revenues for NHL teams are gate receipts and television rights contracts. For national TV contracts, teams share equally in the revenue. Rogers Entertainment paid $4.9 billion over 12 years for the Canadian broadcast rights in 2013, or a little over $400 million per season. In the United States, NBC signed a 10-year deal in 2011 for $2 billion, or $200 million per season. What that means is that each of the 30 teams have $20 million in revenue before they even sell a ticket. Local TV contracts can be even more profitable. The Toronto Maple Leafs collect $41 million a year from Sportsnet and TSN to broadcast their games in Southern Ontario, and the New York Rangers collect $35 million to put their games on the MSG Network. On the other end, the Florida Panthers managed only $11.5 million a year with a 10-year contract signed in 2012 with Fox Sports Florida.
References
Writer Bio
A native of Pittsburgh, Steve Wozniak has worked as a humor writer, a sports writer, an editor and even scribbled a few ads for big-time clients back in the day. These days, he spends his time contributing to a number of websites, covering the occasional sports event, and penning the next great American novel. He studied communications and theater at University of Notre Dame.