Cheerleading Cheers for Kids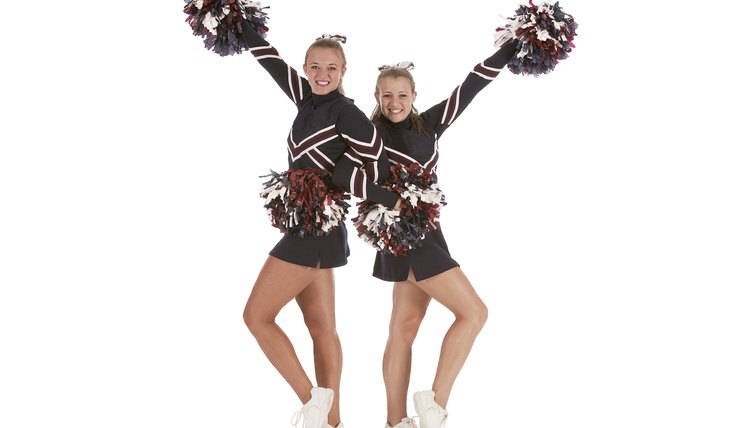 Cheerleading is an old tradition that dates back to the late 19th century, and men were the first cheerleaders for many years until 1923 when women became a part of this activity. Many young men fought in World War II during the 1940s and in their absence more women had entered into this sport. During the 1960s cheering organizations sprang up at different schools throughout the nation. Since that time, girls and boys have been inspired to join cheerleading squads to promote team spirit and to motivate fans.
Inspiration
Cheerleaders must inspire athletic teams and their fans onward to victory. Raising the spirits of team members and spectators can play a crucial role with a win or loss for any given match. Children cheerleaders are expected to know some basic cheers that encourage the success of their team. One cheer that is child friendly and serves the purpose of inspiration is named "More, More, More". This cheer goes like this: "One, we are the (school's name); two, we couldn't be prouder; three, a little bit louder; four, more, more, more, more". Another inspirational cheer for children is called "Hustle" and it's cheered like this: "To the G! To the O! Go (team name)Go!".
Taunts and Cheers
Cheers and taunts are both used during sporting competitions and the major difference between the two is that cheers have a longer prose than taunts. Another goal of a cheerleading squad during a sporting event is to taunt the other team and cause them to lose spirit. Young cheerleaders can learn how to use taunts such as "Beat Em, Bust Em" in this manner: "Beat-um, B-U-S-T bust-um; beat-um, B-U-S-T bust-um; that's are custom now; it's time to re-udjust them go (Team Name). Another taunt is "Knock you Out" and it says: "Knock you out; I don't know what you talking about; but (Team Name) will knock you out."
Bragging
Children who cheer must learn how to brag on the sports team that they represent and their cheerleading squad. Cheers such as "All Across the Nation" are used for boasting and pride. Keep in mind this tactic is done to cause an opponent and their fans to lose spirit. "All Across the nation; there's a (team name) sensation; one by one we beat; we'll knock you off you're feet; a little bit, hey, a little bit; can't you feel it; a little bit, hey, a little bit; can't you feel it!" Another cheer entitled "Step Back" is about team boasting and it goes: "Step back; step back; relax, cause you don't know us; we are the (Team Name) and we got it all".
Standard Cheers
Young cheerleaders are expected to know at least some basic cheers that have been used by many squads for decades. Cheers such as "We Are Number 1" are a classic type that is familiar with many squads all over the country. "1, We are the (Team Name); 2, a little bit louder; 3, we still can't hear you; WE ARE NUMBER 1 (repeat chant 2x's). Another standard cheer that young cheerleaders should know is "Let's Go Team" and this particular cheer is performed in this manner: "Let's Go, team, Let's go (clap 3x's); Let's Go, team, Let's Go (stomp 3x's); Let's Go, team, Let's Go; and win this thing.
References
Writer Bio
Steven Miller earned his associate degree in the field of education and is currently continuing his education at Ohio Dominican University. A freelance writer since 2010, Miller enjoys gaining valuable experience and growing as a writer.