How to Dress for Parasailing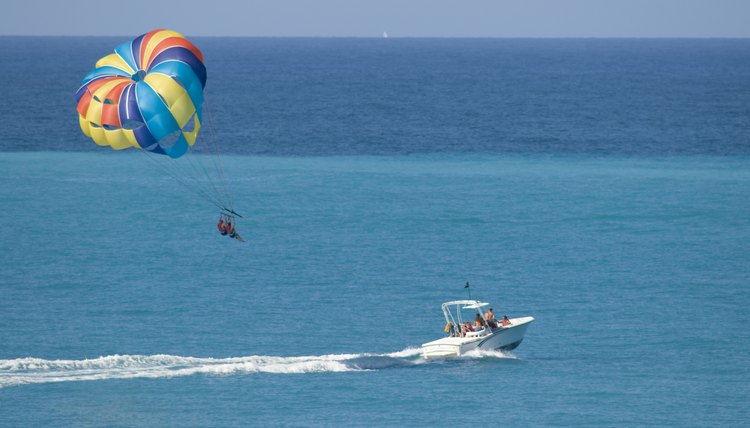 Although couples can wear a bridal gown and tuxedo for a special parasail wedding, most people opt for more practical clothing to cope with the mechanics of parasailing. Your parasail adventure begins with an operator strapping you into a harness and launching you from a boat. After you sail over the ocean, the operator winches you back onto the boat at the end of your ride. Your clothing needs to handle wind and water and not be so loose-fitting that it could get caught in the harness or tow rope.
Cool Suits for Warm-Weather Rides
Operators recommend a bathing suit for warm days. As you may be exposed to wind and ocean spray, choose a suit that fits closely and won't fall off or get caught in your harness. Women should opt for a sleek, close-fitting single-piece suit. Men should wear close-fitting trunks rather than baggy beach shorts. Even if the boat operator doesn't plan to dunk you, you may get splashed accidentally, so avoid fabrics that can't handle water.
Keeping Warm in the Cold
Parasailing isn't restricted to warm weather days. To enjoy soaring behind a boat in cooler weather or regions with cold water, add layers that stay warm while wet to prevent hypothermia. For temperatures greater than 50 degrees Fahrenheit, a fleece jacket and lycra or fleece bottoms keep you toasty both in the air and on the boat. For colder temperatures, wear a wet suit or other cold weather boating gear.
Clothes for the Boat
As you won't be allowed to wear shoes on most boats, choose easily removable sandals or flip flops for the walk to your boat. Add a hat and light jacket or sun-proof cover up for the boat ride. Bring a towel for drying off after you land back on the boat. Pack your cell phone, wallet, keys, sunblock and other essentials in a waterproof bag inside a tote or backpack that can be stowed easily on the boat while you ride your parasail.
Safe Parasailing Tips
Although parasailing is less dangerous than it was back when you were towed behind a car driven on the beach, accidents can happen. Always wear a life vest or personal flotation device while parasailing and while in the boat. Avoid loose, dangling items such as large hoop earrings or scarves that can get caught in the harness or tow rope. Finally, wear waterproof sunscreen of at least SPF 15 to reduce the risk of skin cancer.
Writer Bio
Carol Poster began writing professionally in 1974. Her articles have appeared in "Outdoor Woman," "Paddler," "Ski Magazine," "Women's Sports & Fitness," "Dance News," "Show Business," "The Athenian," "PC Resource" and "Utah Holiday," among other publications. Poster holds an M.F.A. in creative writing from Eastern Washington University, as well as a Ph.D. in English from the University of Missouri.