How to Enter the Mr. Olympia Competition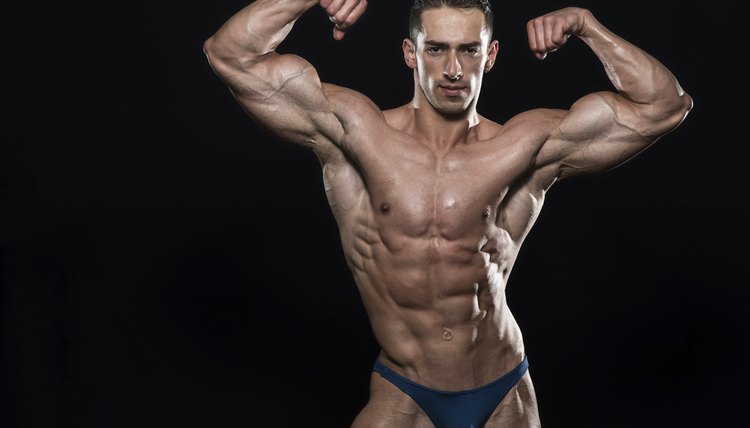 The Mr. Olympia competition began in September 1965 with just three competitors and has morphed into four days of bodybuilding events. An international, professional event created by Joe Weider, the Olympia weekend is now organized by the International Federation of BodyBuilding & Fitness, or IFBB. If you win first in your division at any IFBB event, you automatically qualify. Also, anyone who participates in Mr. Olympia and places in the top five gets an automatic qualification for the following year. In 2015, a point system will also qualify you to participate in any one of the Olympia divisions, including the marquee Mr. Olympia event.
Earning Points
You earn points by placing 2nd to 5th place at IFBB Pro League competitions. The five competitors in each division with the highest point totals earn a spot at the Olympia weekend, including in Mr. Olympia. The events at which you can earn points are tiered and include the top tier Arnold Classic USA; the second tier events of the Arnold Classic Spain, the New York Pro and the Prague Pro; the third tier events of the Arnold Classic Brazil and Australia, the Pittsburgh Pro and the China Pro. All other IFBB events are considered fourth tier. You earn the most points at the top tiered events. For example, at the Arnold Classic USA, you earn 8 points for second place, 7 points for third, 6 points for fourth and 5 points for fifth. Lesser tiered events earn you between 4 and 6 points for second and 1 to 3 points for fifth.
References
Writer Bio
Andrea Cespedes is a professionally trained chef who has focused studies in nutrition. With more than 20 years of experience in the fitness industry, she coaches cycling and running and teaches Pilates and yoga. She is an American Council on Exercise-certified personal trainer, RYT-200 and has degrees from Princeton and Columbia University.