What does fact checked mean?
At SportsRec, we strive to deliver objective content that is accurate and up-to-date. Our team periodically reviews articles in order to ensure content quality. The sources cited below consist of evidence from peer-reviewed journals, prominent medical organizations, academic associations, and government data.
The information contained on this site is for informational purposes only, and should not be used as a substitute for the advice of a professional health care provider. Please check with the appropriate physician regarding health questions and concerns. Although we strive to deliver accurate and up-to-date information, no guarantee to that effect is made.
Exercises to Avoid With a Bad Rotator Cuff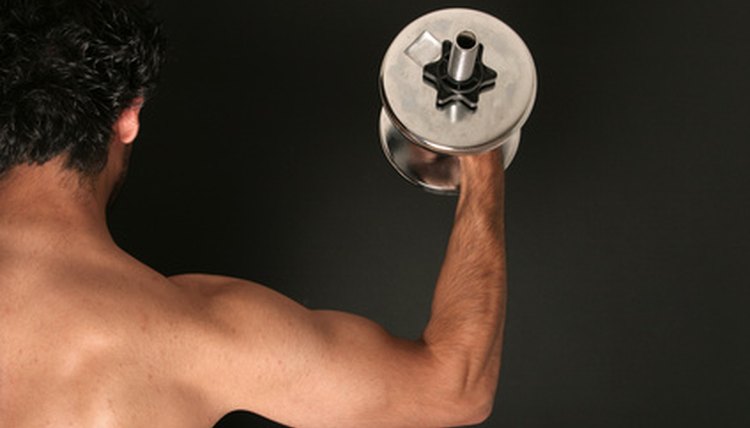 A bad rotator cuff can cause pain with arm rotation, depending on the extent and location of the strain. You can still exercise with a bad rotator cuff, and physical therapists might even prescribe exercises to help regain strength and movement. However, there are some exercises that should be completely avoided or modified if you have a bad rotator cuff. Consult your physician before trying any of these.
Free Weight Military Press
The military press is a resistance exercise where you stand with either dumbbells or a barbell and press weights above your head. This can be bad for the rotator cuff because you typically raise the weights in front of you and above your shoulders before lifting up. The circular motion and additional weight can put undue pressure on the rotator cuff, causing more injury or pain. Since free weights are harder to control, try using an exercise machine specifically designed for the military press, with minimal to no weight resistance. You can control the movement better and find out your rotator cuffs' limitations.
Isometric Push Ups
Although the push up's primary focus is to develop upper body strength, the arms and rotator cuff are also involved. Incorrect form or isometric push ups, which involve slower repetitions, can also put bad pressure on the cuffs. Try using alternative push ups that add more arm control, such as push ups with knees on the ground or bringing your arms inside shoulder width.
Freestyle Swimming
Freestyle swimming can really tax the rotator cuffs. The freestyle swimming arm stroke utilizes a complete rotation of the arm overhead and through the water, which adds more resistance. The same can be said for the backstroke. If you are an avid swimmer, don't drop swimming completely. Utilize strokes like the doggy paddle, breast stroke or swimming on your back with arms pinned to your sides. You can add slower, controlled arm movement to help rebuild your rotator cuff strength.
Boxing
Boxing is another sport or exercise that uses arms exclusively. Boxing against resistance like a punching bag or person will aggravate the rotator cuff. Some boxing punches like the overhead punch or hook will also affect a bad rotator cuff with the motions, while jabs and straight punches can cause less strain. If you are going to use boxing as an exercise, try shadow boxing with very lightweight gloves or no gloves at all. Practice the punches slowly to see your rotator cuff limitations.
References
Writer Bio
Paul Bright has been writing online since 2006, specializing in topics related to military employment and mental health. He works for a mental health non-profit in Northern California. Bright holds a Bachelor of Science in psychology from the University of North Carolina-Pembroke and a Master of Arts in psychology-marriage and family therapy from Brandman University.