How to Get Autographs From Professional Hockey Players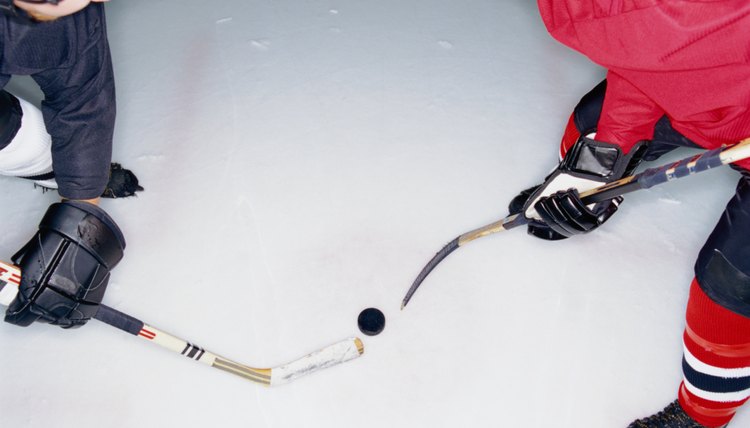 Receiving an autograph from a professional ice hockey player is not only one of the biggest thrills a passionate fan can get, but also adds value to the item being signed. Most players are happy to lend a moment of their time to add their signature to an item. The key is to be respectful, kind and persistent.
Games and Practices
The best place to get autographs is at a game or a team practice, when all of the players are nearly guaranteed to be there. At a game, stand near the team's bench before and during warmups and approach a player or team aide when appropriate. If you are looking to get an autograph after the game, stand near the player's exit to the arena --after checking with security to make sure that it is acceptable -- and wait for players to exit the building. At an open practice, find out from the facility where it is acceptable to approach players to request an autograph. Your local team may also hold other events with players, including meet and greets, fundraisers and carnivals.
Memorabilia Shows
Sports memorabilia shows often feature player appearances, where athletes sign autographs for a fee. Seek out these shows if you cannot get to a game. These events often require you to wait in line for an extended period of time, but are one of the best chances you have of getting an autograph from your favorite player.
Out In Public
The best method to get a player's attention when seeing them out in public is to politely and respectfully greet him, and then ask if he is willing to sign your item. Only bring one item, as players get annoyed when a fan shoves multiple objects in their face, asking for each one to be signed. Remember that they are doing you a favor by signing your item, and show respect and appreciation for the time they take to grant your request.
Written Requests
Most professional hockey teams have instructions on their website detailing exactly how they handle autograph requests. One approach is to hand-write a nice letter to the organization requesting an autograph from your favorite player. Include a self-addressed stamped envelope so the player can return your item to you. Be as polite and respectful as possible to maximize your chances of getting a positive response.
Writer Bio
Alan Bass has been writing since 2008. His work focusing on sports topics has appeared in the "Hockey News" and online at Inside Hockey and HockeyBuzz. He received a presidential award from Muhlenberg College for academic and community achievements, in addition to a bachelor's degree in psychology and business. In 2011, he published a book titled "The Great Expansion: The Ultimate Risk That Changed the NHL Forever."