Gluteus Maximus Exercises for the Elderly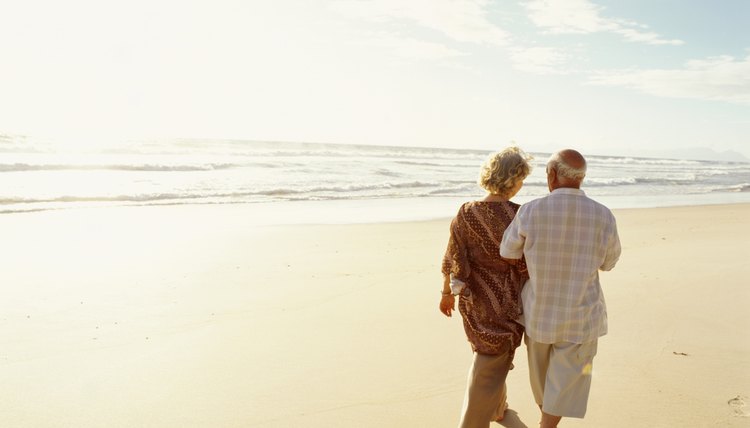 The gluteus maximus muscle is the large muscle on the back of your hips, commonly called the buttocks or glutes. The gluteus maximus muscle performs a number of functions, including maintaining posture, extending the hips and retracting the thigh muscles when walking. The glutes also help you stand up from a seated or a squatting position. Weak glutes can make it difficult to stand up from a chair and walking. Seniors can benefit from strengthening the gluteus maximus to make standing and walking easier.
Safety First
Seniors should consult with a doctor before starting to exercise or adding a new exercise to their current exercise program. Seniors with high blood pressure, heart disease, asthma, osteoporosis, arthritis or any other degenerative disease should not exercise without first consulting a doctor. Should you feel pain in your chest or feel dizzy during exercise, stop immediately and seek medical attention. Learn how your body responds to exercise and adjust the intensity of your exercise to match your endurance and flexibility.
Wall Tilts
Wall tilts can help strengthen the gluteus maximus muscles and the pelvis for better posture when standing. Stand up straight with your back against a wall. Keep your feet hip-width apart and stand in a relaxed manner without locking your knees. Place your right hand behind your back with your palm against the wall. Inhale and press your lower back against your hand and hold the press for two to three seconds. Exhale and then relax. Repeat this exercise 10 times. Seniors who have difficulty placing their hands behind their back due to shoulder or elbow pain should try to perform the wall tilt exercise without placing a hand behind the back.
Squats
Squats are an effective exercise for the gluteus maximus muscle to strengthen the buttocks, so that it is easier to stand from a seated position and improve walking and climbing. Stand in front of a chair that does not have arms, such as a sturdy dining chair. Place your feet slightly apart, about the width of your shoulders. Straighten your arms out in front of your body with your palms down, if you are able. Seniors with shoulder pain due to arthritis or weakness caused by osteoporosis or other condition should rest their hands comfortably on the upper thighs. Bend slightly at the hip joints and slowly lower your buttocks toward the chair seat, but do not sit down. Hold the squat position for two seconds and then stand up straight again. Try to keep your back straight as you lower and raise your body using your glutes. Repeat this exercise 10 times.
Pelvic Tilts
Pelvic tilts strengthen the gluteus maximus muscles and the hamstrings in the back of the thighs for improved balance and endurance when standing. Seniors who have difficulty getting down on the floor can perform this exercise in bed if the mattress is firm. Lie down on the floor or on the bed. Flatten your back and bend your knees. Place your feet flat on the floor or mattress. Stretch your arms out on either side of your body and place your palms down. Exhale and slowly roll your pelvis upward toward the ceiling so that your buttocks and lower back are elevated. Hold the elevated position for two to four seconds and then inhale as you roll your body back down. Start with three to five repetitions, and increase to 10 repetitions as your buttocks, thighs and lower back grow stronger.
References
Resources
Writer Bio
Robin Reichert is a certified nutrition consultant, certified personal trainer and professional writer. She has been studying health and fitness issues for more than 10 years. She holds a Bachelor of Arts in psychology from the University of San Francisco and a Master of Science in natural health from Clayton College.