How to Keep Your Hands Warm Playing Hockey Outside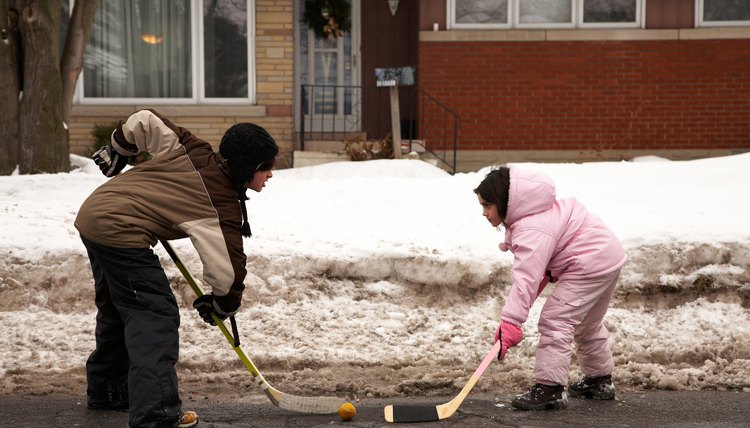 Playing hockey is a way of life for families around the country, and there's nothing better than taking the game outside. Safely checked frozen ponds and outdoor rinks are the perfect places for a pickup game, but heading out without the right gear could leave you miserable. Brave the colder temperatures by making sure your hands are warm, protected and flexible so you can play at your best while staying comfortable in the icy conditions and wind.
Bottom Layer
One of the best ways to ensure that your hands stay warm while playing a game of hockey outside is to keep them dressed in layers. When you wear just one pair of gloves, your hands can sweat. That sweat cools down your hands, so your toasty gloves cause the opposite effect that you wanted. Instead, adding a thin pair of gloves made from a performance moisture-wicking fabric such as nylon helps to keep your hands dry, which in turn keeps them warm.
Warm Gloves
Warm hockey gloves are a no brainer when you're suiting up for a game, but fit can make all the difference when it comes to comfort and warmth. If you're wearing true hockey gloves, look for those that fit snugly around the wrist to keep cold air out. You'll also need plenty of padding on the upper side of the gloves. If you're playing a more casual pickup game, look for a pair of comfortable gloves that feature an insulating layer to keep the snow and ice away from your fingers. Foam padding is one of the most common ways to keep hands warm, but fleece works well too. Just make sure the outer portion of the glove is waterproof, or your hands will end up cold and wet.
Flexibility
Many a pickup hockey player has been sabotaged by the need to take off his gloves during a game. Whether it's to grab a drink of water or tie a loose skate lace, taking off your gloves can freeze out your fingers, leaving them stiff. To keep your hands truly warm, look for gloves that are flexible enough to let you move your fingers. Although hockey gloves are traditionally thick, you can find gloves that allow you to peel back the tips to expose just your fingers so you don't lose precious heat through removing and replacing your gloves.
Chemical Warmers
Chemical warmers are easy to find and are a must-have for long games. They work by causing sodium acetate trihydrate to crystallize and give off heat. The packs are sold in small pillow-like sachets, and they can last up to a couple of hours. If your hands are really cold, pop a warmer on top of your hands inside your gloves. It shouldn't interfere with your stick handling and performance, but they'll keep your hands toasty until you finish the game.
References
Writer Bio
Kay Ireland specializes in health, fitness and lifestyle topics. She is a support worker in the neonatal intensive care and antepartum units of her local hospital and recently became a certified group fitness instructor.