How to Use Phentermine & HCG to Lose Weight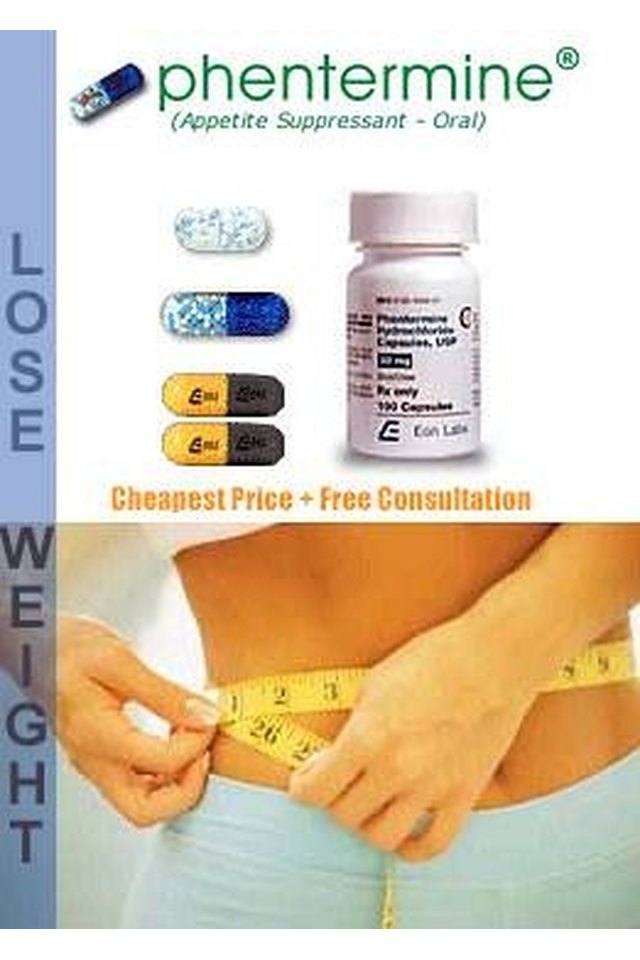 Phentermine is an appetite suppressant that is used together with a nutritious diet and moderate exercise to aid in weight loss. Phentermine is similar in its makeup to an amphetamine, so it must be taken with extreme caution and under the supervision of a health care professional. HCG is a hormone produced by pregnant women during the early stages of pregnancy. When injected into the muscles of a person, it is believed to result in weight loss. It should be noted that phentermine and HCG should not be used simultaneously to promote weight loss. Serious and fatal side effects can occur if the two diet supplements are not used correctly.
Take a tablet of phentermine on an empty stomach in the morning before breakfast. One pill can suppress appetite for up to 12 to 14 hours, so it's best taken early in the morning. If taken at night, phentermine can cause insomnia. Also, taking it on an empty stomach will allow the drug to absorb faster into your bloodstream. Swallow the pill whole; do not break it in half or crush it.
Eat breakfast, lunch and dinner after the taking the phentermine tablet as you normally would. Make sure to eat a nutritious meal full of lean meats and vegetables. Also, make sure to exercise at least 30 minutes a day about three times a week. Light to moderate cardio exercises such as walking, jogging, bike riding, dancing or taking an aerobics class are great options because they will help you lose the weight faster than with the pill alone.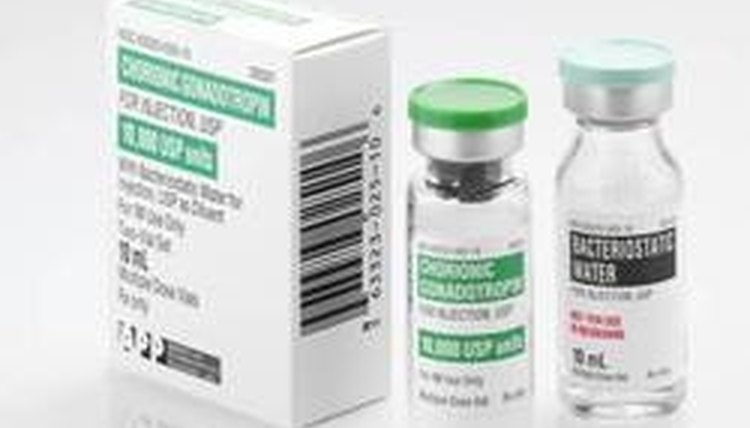 http://www.goask.org/phentermine-pill.jpg, www.hcgdiet.com
Mix the powdered HCG with sterile water obtained from a pharmacy using a syringe to combine 25 ml of sterile water with your particular dosage of HCG in a sterile glass vial. Follow the directions on the HCG mixing kit closely.
Swirl the glass vial to make the HCG powder dissolve in the vial. Do not shake the vial.
Using a sterile needle, inject the HCG into the buttock or thigh muscles. Make sure you understand the correct procedure for injection before you attempt to do this.
Tips
Store the phentermine in a cool area free of moisture. Follow the directions on the phentermine exactly. Meet with your doctor at least once a month to monitor your response to the phentermine. Consult your physician before taking HCG injections. Have the HCG injections done by a doctor or certified nurse for best results.
Warnings
Do not take phentermine and HCG injections simultaneously. Stick to one or the other for your weight-loss regime. Do not take phentermine in the evening as it may lead to insomnia. Do not stop taking phentermine abruptly as you may suffer from withdrawal symptoms. Gradually wean yourself off the medicine when you're ready. Avoid drinking alcohol while on phentermine. Do not self-inject HCG if you do not understand how or where to inject the medicine.
Writer Bio
This article was written by the CareerTrend team, copy edited and fact checked through a multi-point auditing system, in efforts to ensure our readers only receive the best information. To submit your questions or ideas, or to simply learn more about CareerTrend, contact us [here](http://careertrend.com/about-us).