Ideas for a Volleyball Speech for Seniors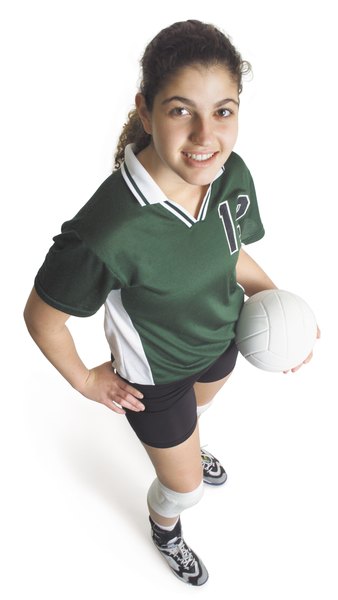 High school seniors can often feel overwhelmed about what lies ahead after graduation. If you are motivating the volleyball team, whether you are a team coach, captain or a player, you will want to provide meaningful reflection and inspiration while also celebrating what the future has in store for the players by building your theme around the game of volleyball itself. With the use of metaphor and personalized imagery, you will inspire seniors to go forward while taking to heart the lessons they have learned from the game.
Introduce the Theme
When giving a speech, you must grab the audience's attention from the start. You may choose to get the crowd focused by opening with a joke, a meaningful quote or even some questions aimed at receiving cheering responses. For this speech, you will want to cater it to the team. For example, "For us, volleyball is more than just a game, it is a metaphor for life." Throughout the speech, include some comparisons between volleyball and success such as the importance of teamwork, training being instrumental in honing your craft or even how injuries make us stronger.
Pause for Reflection
Seniors often feel nostalgic about the past few years in school and on the volleyball team. Spend some time during the speech reflecting on past challenges and achievements. For example, address any championships won, medal earned or notable matches where the team members' spirits were tested. Mention the challenges encountered to show the team persevered, such as the injury that caused the star player to sit out a game or the time the bus got a flat tire on the way to a match. These personal stories will make the audience feel included and represented.
Use Volleyball Jargon
If you really want to drive home how volleyball is a metaphor for what lies ahead, throw in some jargon to emphasize this idea. For example, an "assist" is a term used when one player aids another player in scoring a point. You may mention how essential this is in teamwork. Another term you might use is to "facial" or "six-pack." This occurs when a player gets hit hard in the face during the match. Use this term to symbolize the strife that the teammates are likely to encounter in life.
Motivate and Inspire
If you are a volleyball coach or team captain, you have likely given pep talks to motivate the team to victory or help them out of a troubled frame of mind. Draw from this experience as you address your crop of seniors ready to move forward into life's endeavors. Offer positive support and some words of wisdom; make them feel as if they are ready to go out into the world. Just as they have relied on your guidance in the past, they are now looking to you for warm thoughts that will push them forward.
Writer Bio
Liza Hollis has been writing for print and online publications since 2003. Her work has appeared on various digital properties, including USAToday.com. Hollis earned a degree in English Literature from the University of Florida.