Creative Basketball Award Certificate Ideas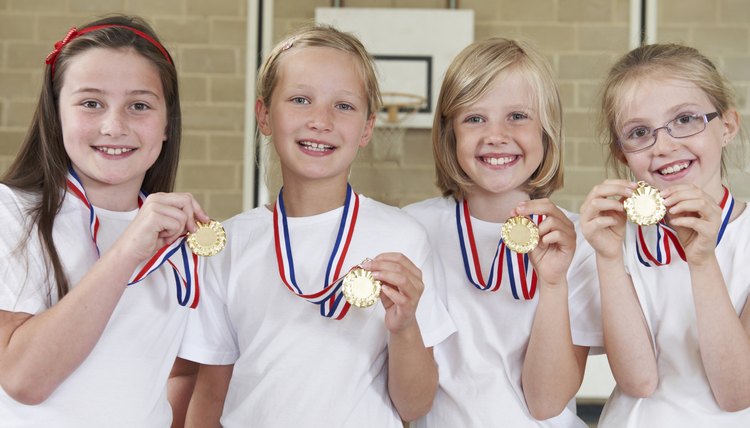 Many athletic coaches present their players with awards at the season's end. Award certificates can celebrate individual accomplishments or highlight the players' personalities. In addition to coming up with creative certificates, consider holding an award ceremony where players, parents and coaches can gather to recognize your team's hard work throughout the basketball season.
Personalities
In addition to the standard award categories -- Most Valuable Player, Most Improved, Best Sportsmanship and so on -- come up with some creative awards. If a player on your team always wears brightly colored shoes on the court, give her the Best Kicks award. The tallest player could be awarded Heads Above the Rest. Tailor the awards to specific players so everyone on the team feels included and noticed.
More Awards
If you need more award categories even after coming up with personality-based ideas, consider specific statistics or plays that were achieved during the season: Most Points Scored, Best Jump Shot, Most Free Throws and so on. Or compare last season's statistics to this season's -- did the team exceed the total number of points scored or games won from the previous year, or did a player break your team's record in some statistic? Any relative accomplishments are grounds for recognition.
Design
While many free templates are available in your word processing program and online for designing certificates, you can personalize your basketball award certificates by inserting art, pictures and custom borders. Set up a page using a basketball border from the clip art collection in your computer and insert pictures of the team or team logo. Use the WordArt function to make a brightly-colored, custom header with the team name or name of the award. Provide space for the player's name, the date and your signature. You can type most of this information right onto the certificate, but personally hand sign it for a personal touch.
Quotes
For players who are old enough to appreciate it, consider including a basketball-related quote. There are many sources of quotes online, both funny and inspirational. For example, Charles Barkley is quoted as saying, "The only difference between a good shot and a bad shot is if it goes in or not." Leadership and teamwork quotes also work well; Kareem Abdul-Jabbar once said, "One man can be a crucial ingredient on a team, but one man cannot make a team."
Writer Bio
Sarah Barnes has been a professional writer and editor since 2004. She has been published in newspapers and regional magazines in the Wichita, Kansas area. Barnes holds a Bachelor of Arts in journalism from a Midwestern university.