Instructions for Blackburn TrakStand Bicycle Trainer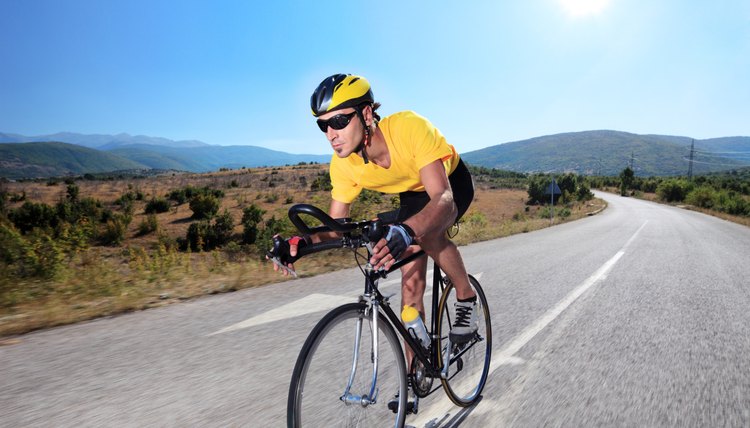 Because it's quiet, lightweight and compact, you can use and store the Blackburn TrakStand bicycle trainer in a small space or outside. The trainer has a large flywheel and a centrifugal system. As you speed up, the resistance will increase, so you don't need any external controls. Setting up the trainer and mounting your bike on the trainer will take about 30 minutes.
Clamping In
To mount your bike on the Blackburn TrakStand Ultra, begin by loosening the resistance knob and axle cones to provide clearance for your back wheel. You can't miss the big cranking knobs and solid crank arm on this trainer. Next, place the bike's back wheel between the axle cones. Because the axle anchors are solid, it should be a breeze to get your bike into position. Tighten the cones evenly until your bike is held secure by the frame. Next, tighten the resistance knob until it refuses to slip on the resistance unit.
Adjusting Height
You may want to lower the ride height to allow for a more stable ride. You can dip as low as one-quarter inch off the ground. Use the TrakStand's height-adjustment knob, which is clearly marked for 700c, 650c and 26-inch wheels. By turning the height-adjustment knob, you can fine-tune the height adjustment and set your desired height. Make sure the wheel doesn't come into contact with the ground or carpet. Once you've set the height of your saddle, you can mount your bike.
Checking Tires
Before you hop on your bike for a workout, check your tires to make sure they're properly inflated. The sidewall of your tire should have a pressure range, such as 110 to 125 psi. When you inflate your tires, err on the high side to prevent damage to the rims. For every workout, try and use the same amount of roller pressure on your tire. To accomplish this, adjust the roller until it just touches the tire. Turn the adjustment knob -- a half or a full turn. It should be an exact adjustment that you can remember so that you can repeat the setting on your next workout. If the tire is too tightly pressed against the roller, it'll wear out quickly.
Training Tips
Because you're cycling in place, damp air rising from your body will encircle you. Put a fan in front of you so air circulates around you during your workouts. If you're riding indoors, you may want to put a towel under the bike to protect the floor from damage from your sweat. Because you don't get a breather going downhill or at traffic lights, reduce the normal duration of your outdoor workout by 20 percent when using the trainer. Drink plenty of water to keep your body hydrated.
References
Writer Bio
Kay Tang is a journalist who has been writing since 1990. She previously covered developments in theater for the "Dramatists Guild Quarterly." Tang graduated with a Bachelor of Arts in economics and political science from Yale University and completed a Master of Professional Studies in interactive telecommunications at New York University.