How to Make Adjustments to Swim Trunks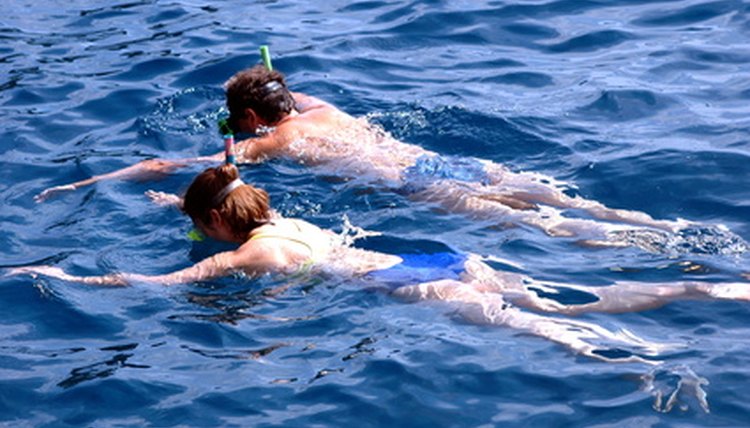 Swim trunks are distinguished from board shorts by the mesh lining. Trunks have the mesh lining while board shorts -- those trunks favored by surfers and boogie boarders-- do not. When swimming trunks get wet, they tend to loosen or feel like they are falling off. This is remedied through the trunks strings, found in the front-center of the waistband. Tie a knot or use spring-loaded connectors to tighten and adjust the trunks as the swim trunks get wet and dry during the day.
Tie the Strings
Pull the two strings out from the center of the trunks so they are equal length. Tie a square knot into the two strings and push the knot down to the trunk waistband. Do this prior to jumping in the water as anticipation to the trunks getting heavier and looser in the water.
Grab the strings, untie and pull out further to tighten the trunks in the water. Tie off the strings once again with a square knot and push the knot down to the waistband. Trunks feel loose because of the material absorbing water and getting heavier. Tie the knot to prevent slippage.
Untie the strings and pull on the waistband of the trunks as the trunks begin to dry and shrink when not in the water. If on the beach or poolside, do not worry about knotting the strings. Pull on the waistband to loosen the trunks as the dry and shrink.
Spring Loaded Connector
Pull the two trunk strings out from the waistband an equal distance on both sides.
Push the spring-loaded action on the connector and push the two strings through the hole on the connector. Release the spring-loaded action so the strings are tight and snug in the housing.
Pull the two strings out and away form the connector to tighten the trunks and squeeze the spring action to loosen the trunks.
References
Writer Bio
A former Alaskan of 20 years, Eric Cedric now resides in California. He's published in "Outside" and "Backpacker" and has written a book on life in small-town Alaska, "North by Southeast." Cedric was a professional mountain guide and backcountry expedition leader for 18 years. He worked in Russia, Iceland, Greece, Turkey and Belize. Cedric attended Syracuse University and is a private pilot.