How to Make Homemade Sports Banners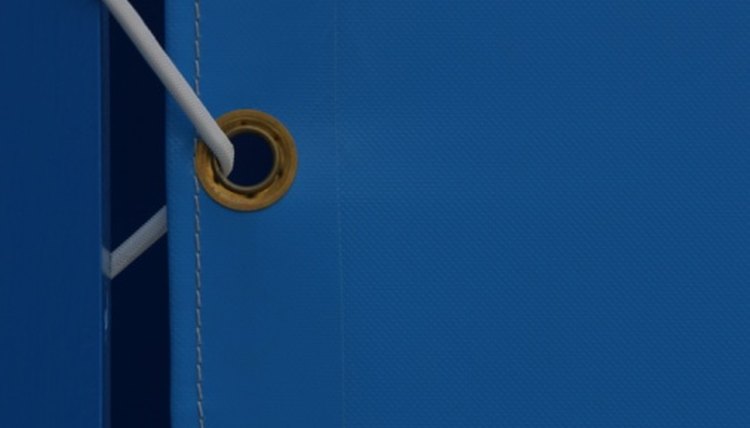 Show your team spirit with a homemade banner for your favorite team. Rather than pay for a generic banner, create your own. The experience will bring the teammates closer together and ignite team spirit. A homemade banner stands out from the rest and costs much less. Show your pride and support this season and build a banner for all to see at the ballpark.
Purchase a 5 foot-by-8 foot white tarp for the base of the banner. Discount chain stores and camping or outdoor sports stores sell tarps. Use tarp rather than paper or other fabrics, as it costs less, weighs more and is waterproof.
Draw the team logo on a piece of felt and cut it out to sew or glue onto the middle of the banner. The waterproof coating on the tarp makes it difficult to apply paint, so add your designs in vibrant colors of felt.
Request an autograph from each player around the border of the banner. Use permanent markers for the autographs, to keep the banner waterproof. Leave at least three inches along the top of the banner clear of any decorations.
Apply stick-on letters to spell out the team name on the banner. Stick to the teams colors for the letters, if possible. If the team has multiple colors, avoid alternating colors for each letter, and alternate per word instead, to make the sign easier to read. Keep in mind how far the banner will be from the audience. To read letters from 250 feet away, the letters must reach at least 10 inches tall.
Include sponsor logos or messages on the sign. If a local company sponsors the team, add the contact information of the business with permanent marker on the bottom. Write something similar to "Proudly sponsored by 123 Company (123) 456-7890."
Hem a three inch fold across the top of the tarp and secure it with glue or a needle and thread. Insert a wooden stick, two inches longer than the tarp into the fold. Leave one inch of the stick on each side of the tarp, to hold during the sporting event -- or attach a piece of fabric to tie the banner to the fence.
Writer Bio
Crystal Lee began her freelance writing career in 2008. She has published multiple articles in "The Student Magazine" and for various online publications. She holds a Bachelor of Arts in women's studies and sociology from the University of Windsor.