How to Make Your Own Baseball Pitchback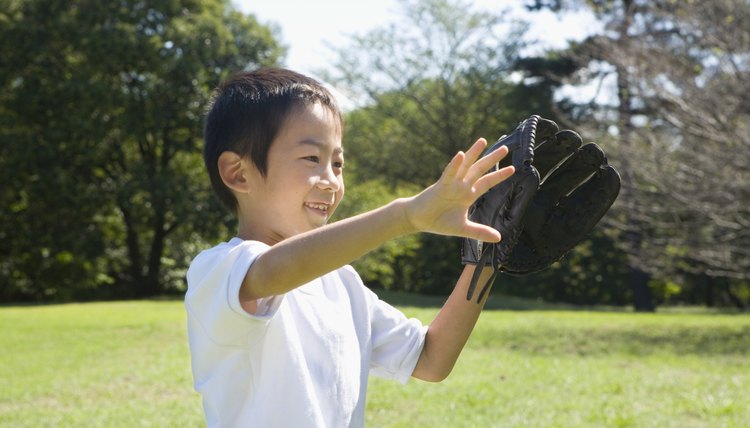 One of the most effective aids for baseball workouts is called a pitchback. This system helps players of all ages hone fundamental throwing skills as well as develop agility, reflexes, coordination and catching ability for both aerial and ground balls. Retail prices on a baseball pitchback can be expensive. A homemade pitchback, however, is affordable, efficient and easy to construct.
Cut the PVC piping into appropriate lengths–using a pipe cutter or a hacksaw.
Lay out two 3 feet and two 4 feet lengths of PVC piping so that they make a 3 x 4 foot rectangle. Apply plumber's glue to the ends of each pipe. Connect one 3 feet length and the two 4 feet lengths of piping using 90 degree pipe fittings. Connect the other 3 feet length to the two 4 feet lengths using three-way connectors so that the unused connector hole is facing behind the square.
Attach the remaining 3 feet lengths using plumber's glue and 90 degree fittings so that they make a 'U' shape. Attach the assembly to the square assembly by using plumber's glue and pushing the loose ends of the 'U' into the unused holes of the square assembly.
Cut your netting so that there is 3 inch excess around all edges of the 3 x 4 foot rectangle.
Lay your netting out so that it sits with excess netting evenly around the PVC piping of the 3 x 4 foot rectangle.
Attach the grip clamps over the netting on each side of your rectangle.
Tips
Homemade pitch backs can tip over from strong throws. A sandbag can easily counteract this tendency if put on the supporting legs.
Writer Bio
Donivan Gillis began writing professionally in 2010, with his work appearing on LIVESTRONG.COM. He has been studying martial arts since 1996 and has been teaching since 2002. He studied business management at Polomar College in San Marcos, Calif.