Why Is Michael Jordan Considered a Leader?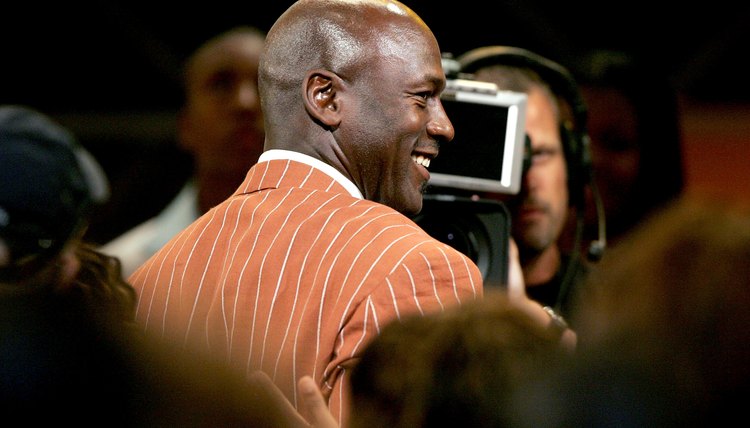 Michael Jordan, considered one of the greatest basketball players of all time, earned six world championships during his tenure with the Chicago Bulls and set a slew of records in the process. His leadership qualities stem from more than his skills on the court, however. Michael Jordan is a leader due to his character as well as his accomplishments.
NBA Career
Jordan was widely recognized as the leader of the Chicago Bulls, and his on-court statistics back that claim up. He led the league in scoring seven times from 1987 to 1993, then three more times from 1995 through 1998. His ability to share the ball and work with fellow players such as Scottie Pippen and Dennis Rodman earned the Bulls three consecutive world championships from 1991 until 1993 and three more from 1996 through 1998. During those championship runs, Jordan led both by example and by keeping his eyes on the shared glory of a title rather than personal statistics and fame.
MVPs
Jordan won the NBA's MVP award five times between 1987 and 1998, a figure exceeded only by Kareem Abdul-Jabbar -- though Wilt Chamberlain also has five MVP awards. Cementing his importance to the team, he also won the NBA Finals MVP award all six times the Bulls claimed the championship. He made the NBA's All-Star team 14 times and was selected as the All-Star Game's MVP three times.
Olympian
As a college student, Michael Jordan played on the 1984 U.S. Olympic basketball team, winning the gold medal in the sport with his teammates. He was again selected for the 1992 Olympic team, which included other NBA legends such as Magic Johnson and Larry Bird. Even among such stellar teammates Jordan shone, leading the team with an average of 17.1 points per game in their successful drive for the gold medal.
Endorsements and Business Dealings
Jordan's leadership qualities became a cultural phenomenon when he moved into the realm of endorsements. Nike shoes created an entire brand of sneaker centered around him -- the Air Jordans -- and featured him in high-profile campaigns for Wheaties cereal and Gatorade beverages. The endorsements had a profound effect both on the profile of the associated brands and in the image of the NBA among the public -- so much so that the "Journal of Advertising Research" coined it "the Michael Jordan Phenomenon" in 1997.
Legacy
"Sports Illustrated," ESPN and other sports media outlets have cited Jordan's influence on players who came after him. Subsequent NBA stars such as Kobe Bryant and LeBron James name Jordan as a role model, and numerous up-and-coming players have been dubbed "the next Michael Jordan" by members of the media, a sign of how much of an impact Jordan had on the game.
References
Journal of Advertising Research; The Wealth Effects Associated With a Celebrity Endorser: The Michael Jordan Phenomenon