How Does an NHL Hockey Player Spend a Workday?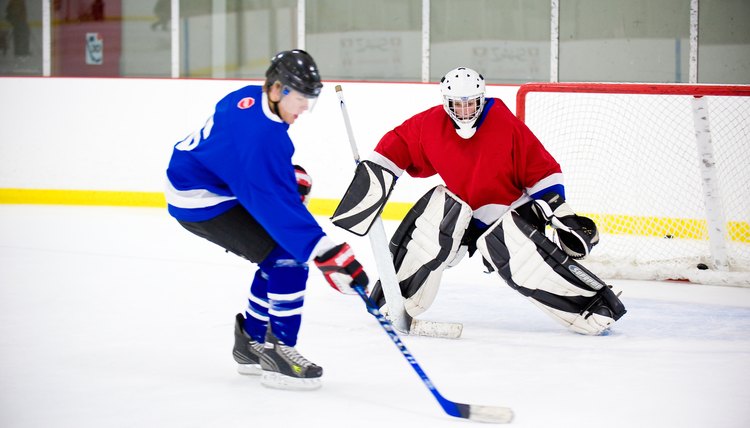 NHL Players have two distinct types of work days: practice days and game days. Each involves a combination of training, mental preparation, on-ice work with the team and medical treatment when necessary. Game days are much busier, so most of the community outreach and public relations work is done on practice days. NHL players also get many days off to rest during the grueling 82-game regular season schedule.
Practice Days
NHL teams usually practice in the late morning. Injured players arrive early to receive treatments and do their rehabilitation work. Players assemble before the practice for individual, group or team meetings. They fuel up with nutritious snacks or energy drinks. They do dry land training to warm up. Practices tend to be fast-paced and relatively short, with warm-ups, intense team drills for about an hour, then a cool-down period with some individual skill work. Players may do some off-ice conditioning work and perhaps receive additional treatments before heading out for lunch. As the season wears on, most coaches hold "optional skates" for players who haven't played as much. They excuse the weary or injured players from on-ice work. Teams often give players community outreach or public relations assignments on light work days or days off.
Pre-Game Work
Players arrive at the rink in the morning on game days. Injured players arrive early to receive treatments and do their rehabilitation work. Players meet with the coaching staff and go on the ice for a brief, light mid-day workout. Coaches may scale this back for the second of back-to-back games, opting to only meet with the players or hold an optional skate. "I've always been to every morning skate — that's the way I am," NHL goaltender Roberto Luongo once told the Canadian Press. "I like to get a little sweat going in the morning so I can feel good about my game at night." Players who are not in the lineup often do extra skating drills on game days to maintain their game conditioning. Players eat lunch, then take naps back home or in their hotel room.
Pre-Game Activities
Players arrive at the rink in late afternoon for their games. NHL star Tyler Seguin arrives 2 hours and 45 minutes ahead of the team. "I tape my sticks," Seguin said in an NHLPA video. "I then get a massage. I have to ride a bike for 10 minutes. Then I'll jump in the cold tube. After a massage, I'll stretch and play soccer." Many teams form pre-game circles to kick a soccer ball around. Players also get medical treatment, eat a light snack and meet with coaches. Players warm up with a 20-minute skate before the game, then return to their dressing room to make their final mental preparations. Players not playing that night watch the game from the press box or on a television down below.
Post-Game Activities
After the game they meet briefly with their coaches to review the game. They ride exercise bikes to flush the acid out, do strength maintenance work in the weight room. "You figure in a game, if you're lucky, you get 20 minutes of ice time. So, that's your 20-minute warm-up and then you go from there and get your strength workout in," NHL defenseman Mark Eaton told USA Hockey Magazine. "It's a necessity, especially in this day and age when guys are so big and strong. Guys work so hard in the offseason that you can't go an extended amount of time without working out because your muscles will atrophy and you'll lose so much strength." Players consume recovery drinks, receive medical treatments and massages, conduct interviews with the media and finally head out for a late dinner.
Travel
When teams play back-to-back games, players will head to the team bus to catch their charter flight to the next city. They will eat their team meal on the jet. En route they may review their game shifts on their mobile devices, thanks to the individual downloads prepared by the team's video coordinator. Once they arrive at the next city, they take a chartered bus to their hotel -- often arriving in the early morning hours.
References
Writer Bio
Jeff Gordon has been reporting and writing since 1977. His most recent work has appeared on websites such as eHow, GolfLink, Ask Men, Open Sports, Fox Sports and MSN. He has previously written for publications such as "The Sporting News" and "The Hockey News." He graduated from the University of Missouri-Columbia School of Journalism in 1979 with a bachelor's degree.