Parts of a Football Uniform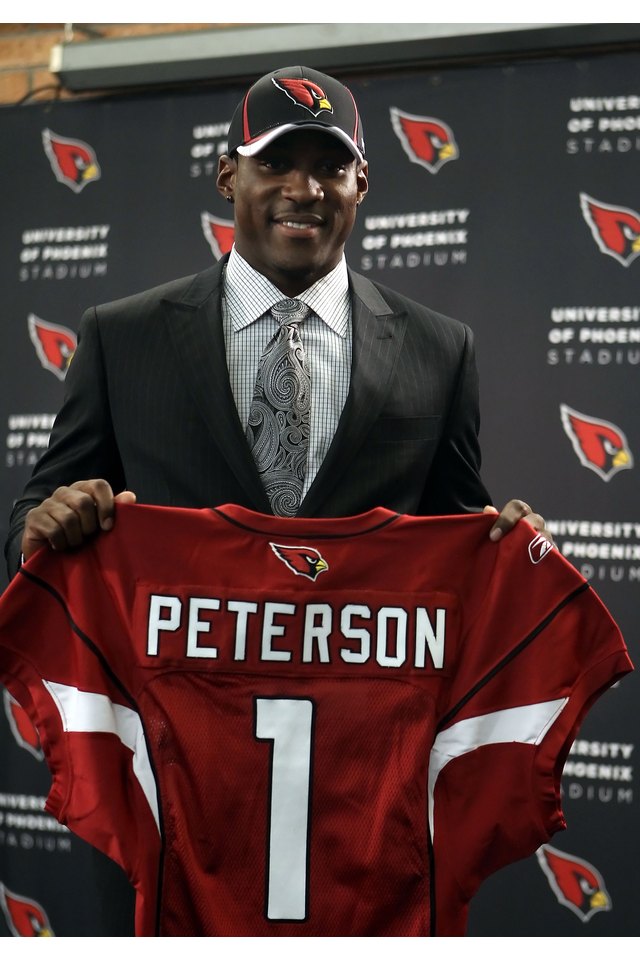 Football players wear distinct uniforms that suit the often rough and tumble game. The uniform is designed for safety, but it also serves to make players look intimidating to the opponent. According to former pro quarterback and current football commentator Joe Theismann and his ghostwriter Brian Tarcy, in "The Complete Idiot's Guide to Football," "the psychological effect of the uniform is immense" and can serve to intimidate your opponent.
Jersey
Football players wear jerseys made of durable synthetic materials such as nylon. According to Joe Theismann and Brian Tarcy," the colors of a football jersey are typically vivid with designs that are "either urban and hip or historic and legendary." The jersey also displays the players number on the front and back, allowing the referees to identify players. The jersey must be tucked in at the waist and the sleeves cannot be cut or torn.
Helmet
The primary purpose of the helmet is to protect the football player's head from injury. Helmets are made of rigid plastic with padding on the inside to cushion the head against blows. They also feature face masks made of metal bars coated in plastic which protect the player's face. In addition to protecting the player, helmets can serve visual purpose, displaying the team's colors and logo.
Pants
Football pants are made of durable and stretchable synthetic blends such as nylon and elastene. The pants are tight-fitting but flexible, allowing players to move freely. Football pants tie up in the front with laces, which are safer than zippers which can catch on clothing or skin. The pants ave pockets on the thighs and knees; pads are inserted into these pockets to provide protection to players.
Socks and Shoes
Football socks must extend up to the bottom of the pants, below the knee. If players wear tape on their socks, it must either match the color of the player's jersey or be transparent. Players wear different shoes depending on the field conditions. On grass fields, players wear cleats that dig into the ground. Players wear longer cleats if the field is wet, in order to get better traction. On artificial turf, players wear shoes with a rubber sole that grips the surface.
Pads
Football players wear shoulder pads that are made of soft, shock-absorbing materials and covered in a hard plastic material. The pads protect the players' shoulders, chest and ribs when being tackled or hit on the field. In addition to providing protection, shoulder pads give football players an intimidating, broad-shouldered appearance.
References
The Complete Idiot's Guide to Football; Joe Theismann and Brian Tarcy
Let's Play Football; Shane McFee