How to Play Skins in a Golf Scramble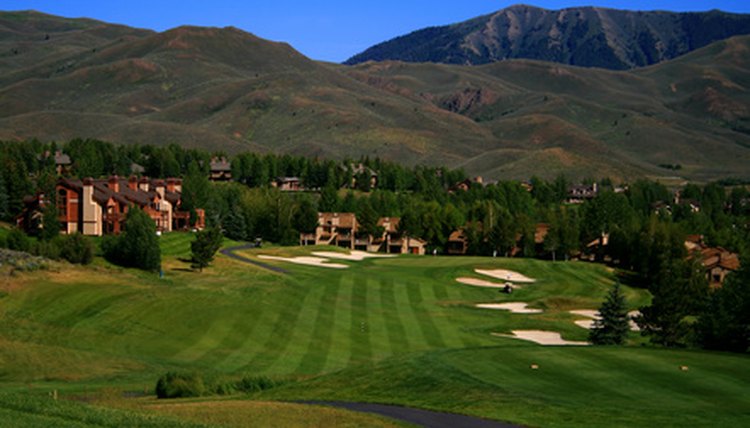 Golf committees have a wide selection of formats to choose when administering a golf tournament. One of the most popular formats is the scramble. This is widely used during charity events. Another popular format is a skins game. Skins games are popular events for individual players. In fact, you will often see skins games televised between a small group of PGA or LPGA players. Winning a skin in these events can be extremely difficult. During skins events, there might be as little as one skin won, which will be worth a substantial amount.
Play a scramble format in a team of two, three or four players. Each player hits a tee shot. The group selects the best drive, and each player hits from the selected spot. Each player will typically place the ball within one club length of the original shot. Continue in this manner until the ball is holed. The ball must be kept in the same condition for each shot. For example, if the ball is in the rough, it must remain in the rough. If the ball is in a bunker, it must remain in a bunker, even if a club length would reach the rough.
Participate in a skins game where there is a value placed on each hole. Skins are worth a certain dollar amount or point value. When a player has the lowest score on a hole, he wins a skin. Each hole is worth one skin, therefore, in a round there are a total of 18 skins available.
Combining a scramble format and skins game is rather easy. Each hole is worth one skin. A committee would determine what each skin is worth, whether it is a point system or monetary value. Any team with the lowest score on a hole wins a skin.
If there is a tie on a hole there are two options.
With one, a skin would carry over to the next hole. For example, if holes one through 14 are tied, and a team wins the 15th hole, it wins 15 skins.
Since the event is a scramble, there could be over 20 teams participating. With that many teams, extra holes is not an option.
Thus, the other outcome could offer a skin to any team with the lowest score on a particular hole. Under this format, a halved hole is not worth anything. This is the more logical option.
Writer Bio
Matthew Keller has been a PGA Golf Professional for more than 10 years. During that time, he has given thousands of golf lessons and written numerous articles relating to the golf industry. Keller is a graduate of the Pennsylvania State Professional Golf Management Program.