Preparation for the First Time of Zumba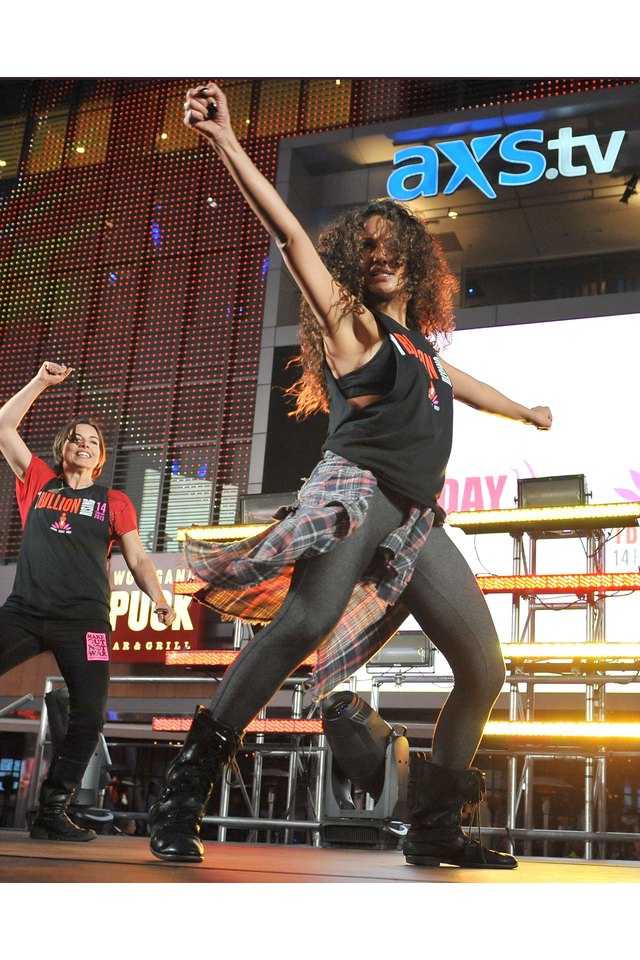 Zumba classes really do create an energetic party atmosphere -- but if you've never done Zumba before, figuring out just how to work yourself into that party can be a challenge. There's almost no verbal cuing, and the world music and exotic dance moves you'll encounter aren't exactly standard fare. That's part of what makes Zumba fun, though -- and with just a little basic prep, you'll be ready to join the party.
Get the Look
You can expect to see lots of brightly colored, artfully tattered, Zumba-branded workout wear in almost any Zumba class. Many students consider donning the Zumba look part of the fun, but it's not obligatory. All you have to do is dress in comfortable clothes that let you move freely -- don't worry, you'll still fit right in.
Get the Right Shoes
Wear sneakers that allow you to move side-to-side and pivot. Running shoes usually aren't appropriate because they grip the floor too much; they're also built to limit side-to-side movement, not facilitate it. Cross-trainers or dance sneakers are usually appropriate, however -- and in an interview for PopSugar, Zumba instructor Michele Schmidt says that running shoes with worn-down tread could work. She also recommends bringing water and a towel to class.
Take a Prep Class
If you've never dabbled in the dance styles Zumba incorporates -- Latin dancing, belly dance, hip-hop and belly dancing in particular -- the editors of "Consumer Reports" recommend taking a prep class to learn the basic moves. If taking a Zumba prep class isn't an option, you can pick up a move or two by watching Zumba workouts on YouTube; instructors often post their choreography there. Other options for giving yourself a leg up include renting or buying Zumba DVDs, or taking a regular dance class that focuses on just one of the styles Zumba incorporates. That lets you ease into the experience a little more gradually.
Find Your Place
Show up a few minutes early so you can stake out your space on the dance floor and, hopefully, avoid crowds where you might accidentally get an exuberant arm across the face. A place in the middle of the room is ideal. That way you can watch the more experienced students, who tend to cluster in the front of the room -- but if everyone turns around and faces the other direction, you'll still have someone to watch.
Try Several Instructors
Every Zumba instructor has different styles for teaching and choreography, so if you didn't really enjoy your first class, give it another chance with a different instructor. "Zumba parties," often attached to fundraisers or other special events, usually feature several instructors teaching in succession, so they're a great way to experience several teaching styles and choreography types in a short time at little cost.
Watch Your Health
Zumba instructors typically don't screen participants for health concerns. That type of screening is an important part of starting any fitness program, however, so if you're not sure whether or how hard you should be working out, consult a physician. He might recommend starting with a lower-intensity Zumba Gold class -- originally designed for seniors -- or maybe even working out in an Aqua Zumba class, where the pool you're submerged in can support your joints and allow you greater, more comfortable, range of motion.