How to Print Race Numbers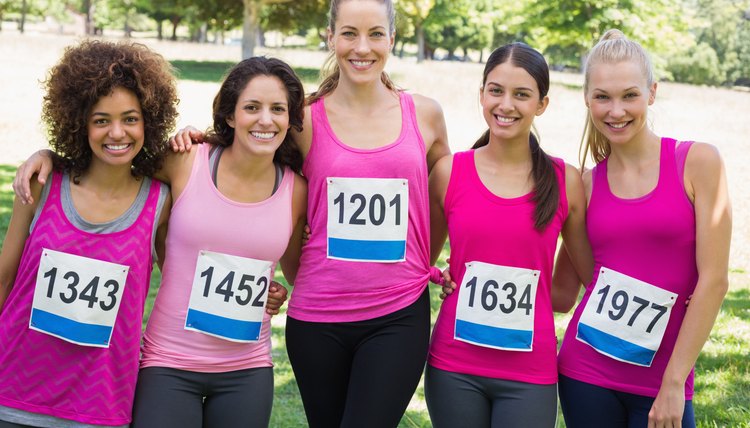 The bib numbers that are worn by participants of a race act as identifiers so that officials can quickly decipher what event a runner is in and to assist with tracking time. Depending on the budget of your race, you can hire an event planning service to handle the production and printing of the race numbers or use a template and print the bibs on your own. Using the planning service, though it will require an increased budget, will save you time because the company will assist in the design of the bib numbers and print the numbers on the paper of your choice.
Printing Bibs on Your Own
To print race numbers on your own, find a race bib template by searching for "running bib template" in your Internet search browser. Download the template and open it in either a word processor or image editing software. Add the name of your race at the top or bottom of the bib. Add in the number on the bib, starting at 001. Print a single bib featuring each number, counting up to 002 and beyond until you've printed enough bibs for the participants in your race. Use a paper slicer to cut off excess paper around the printed bib. So that the bibs will stand up throughout the race, either take the printed bibs to a print shop to laminate each one, or purchase a self-laminating kit. Use a hole puncher to punch holes in each corner of the bib for the safety pins so each racer can attach the bib to her shirt.
References
Writer Bio
Kim Nunley has been screenwriting and working as an online health and fitness writer since 2005. She's had multiple short screenplays produced and her feature scripts have placed at the Austin Film Festival. Prior to writing full-time, she worked as a strength coach, athletic coach and college instructor. She holds a master's degree in kinesiology from California State University, Fullerton.