How to Qualify for U.S. Open Tennis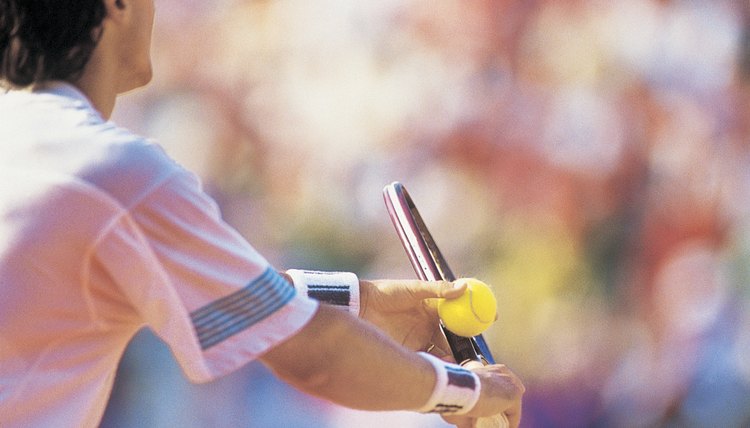 The squeak of the shoes, the pop of the racket and roar of the crowd; you've dreamed of tennis-borne fame. And the U.S. Open might be your ticket. The odds are against you, but if you're at least 14 and believe in yourself, then enter the one of 13 qualifying tournaments across the country. Then fight your way to the championship.
The Lottery
If you're not already a paying member, go to the United States Tennis Association's website and join. Now you can register for a qualifying tournament through the USTA's Tennis Link website. In 2014, entry fees cost between $45 and $100 per player. You may only register for one tournament as a singles player, but you can register to play at a separate tournament as a part of a doubles team. Registration closes in mid-March for tournaments that take place April through July and registration is capped at 256 singles and 128 doubles teams. If there are more registrants than available slots, the USTA will hold a lottery within 48 hours of the close of registration. You'll receive a refund if not selected.
Uphill Battle
The qualifying tournament consists of single elimination matches playing to the best-of-three tie-breaking sets. Winning the qualifying tournament is only the first step toward getting into the U.S. Open. Winners of the men's and women's singles at each qualifying tournament will receive wild card entry into the U.S. Open Qualifying Tournament. The mixed doubles winner of each qualifying tournament will receive wild card entry into the U.S. Open Mixed Doubles Championship, which takes place at the USTA Billie Jean King National Tennis Center. Both tournaments take place in August just before the U.S. Open. You'll have to fight your way through some stiff competition get into the big tournament.
References
Writer Bio
Christopher Michael began writing in 2010 for Break.com. He received a Bachelor of Arts in English from the University of Massachusetts, Amherst. Writing sports and travel articles helps support his professional baseball career, which has taken him to 49 states, five continents and four oceans.