How to Read NFL Football Odds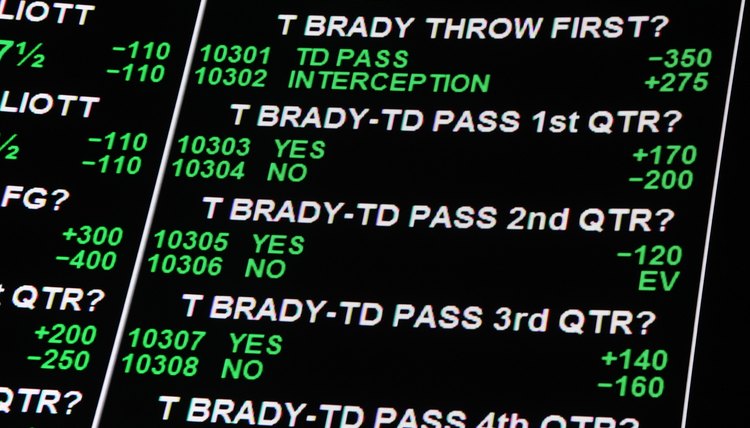 There are two outcomes to every NFL game. The first result is on the scoreboard: Which team won and which team lost? The second tally is done by bettors: Which team covered, or beat the point spread?
Picking winners and losers against the spread is a popular pastime. Before embarking on this adventure you must understand how the system works and how to read the point spread, money lines and over-under totals.
Be careful not to wager more than you can afford and remain aware that gambling can become addictive.
Be careful not to wager more than you can afford and remain aware that gambling can become addictive.
The Point Spread
Oddsmakers do more than pick the winners and losers of each game. They weigh myriad factors to determine which team is favored by how many points.
They set an early point spread on each game, then adjust it up or down based on betting patterns.
Pushes and Half-Points
If a team favored by six points wins by exactly six points, the outcome is considered a "push" and the bettors get their money back, minus the bookmaker's commission.
To reduce the number of pushes, oddsmakers often set spreads with half-points. So if the Cowboys are 3 1/2- or 3.5-point favorites over the Giants, they must prevail by four or more points to pay winning bets.
Setting the Point Spread
Oddsmakers want you to gamble on underdogs as well as favorites. They set points spreads that encourage balanced betting.
Oddsmakers want you to gamble on underdogs as well as favorites.
Oddsmakers take factors into play:
Team strengths and weaknesses
Strength of schedule
Results against common foes
Key injuries
Game Day Weather
Home field advantage
They analyze the strengths and weaknesses of each team, factoring in won-loss record, strength of schedule, results against common foes, key injuries, recent performance and previous games between the teams.
They also rate the value of home field advantage and consider the game day weather forecast where relevant.
If they see heavy wagering on the favorite, they will increase the point spread during the week to spur more betting on the underdog.
If more money is going on the underdog, the spread will decrease as game time nears.
Reading the Point Spread
If the Cowboys are 6-point favorites, their odds are -6.
If the Giants are 6-point underdogs, their odds are +6.
From the oddsmakers' perspective, the Giants are starting the game with a 6-0 lead, while from the Dallas side, the Cowboys are starting with a 0-6 deficit.
If you bet on the Cowboys and they win 34-30, they failed to cover the spread by two points. If you bet on the Giants, they beat the spread by two points.
The Money Line
You can also bet straight winners and losers -- with no point spreads involved -- with money line wagers.
When there is a minus number you bet that amount to win $100 in profit.
When there is a plus number, that is your winning profit for every $100 wagered.
So if the Cowboys have a money line of -250, you would have to bet $250 on them to win $100 in profit on any Dallas victory.
If the Giants had a money line of +150, you would win $150 in profit with a winning $100 bet.
If a money line is posted as even, you would win a $100 profit on a $100 winning bet.
Point Spread relationship to Money Line
-1 is -120/+100
-2 is -130/+110
-2.5 is -140/+120
-3 is -155/+135
-3.5 is -175/+155
-4 is -200/+170
-4.5 is -220/+180
-5/-5.5 is -240/+190
-6 is -270/+210
-6.5 is -300/+220
-7 is -330/+250
-7.5/-8/-8.5 is -360/+280
-9/-9.5 is -400/+300
-10 is -450/+325
The Over-Under
Oddmakers set a point total for both teams combined.
​The Over​: You can bet the over, wagering the teams will combine to score more than the predicted total.
​The under​: Anticipate a lower-scoring game? Bet the under. Such wagers are typically taken in the -110 money line format. A $110 bet would pay a $100 profit if you win.
Fractional Odds
Bettors can also place bets on a team's longer-term success.
For instance, if the Cowboys are given 10-1 odds to win the Super Bowl during the preseason, a $100 bet placed at that time would pay off a $1,000 profit if they won the World Championship six months later.
Writer Bio
Jeff Gordon has been reporting and writing since 1977. His most recent work has appeared on websites such as eHow, GolfLink, Ask Men, Open Sports, Fox Sports and MSN. He has previously written for publications such as "The Sporting News" and "The Hockey News." He graduated from the University of Missouri-Columbia School of Journalism in 1979 with a bachelor's degree.