How to Read a Snow Report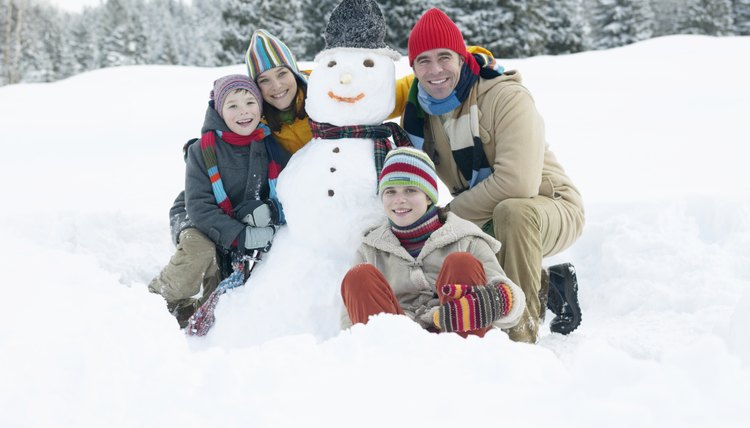 A novice skier or snowboarder trying to read a snow report for the first time might become confused. Words like "corn" and "hard pack" seem more suited for a produce stand than the ski slopes. An entire lexicon exists for reporting mountain conditions at ski resorts. Learning some basic terminology will help ensure a more enjoyable day on the slopes for those just starting out.
Groomed vs. Un-Groomed
What most skiers want to know is how much snow, if any, has fallen overnight, and which runs have been groomed. The snow report provides this info. Groomed runs are ones that have been uniformly conditioned by snow-tracking machines. Beginners will want to avoid non-groomed runs, ones that may contain icy patches or powder that's more difficult to turn in, and stick to the groomed slopes.
A Few Important Words
The "base" in a snow report gives an average depth of how many inches of snow the resort has over its skiable terrain, as opposed to fresh-fallen snow. "Corn" means wet, granular snow, a condition usually occurring in spring and easy for novices to navigate. "Hard pack" is the opposite of corn, almost like skiing down an ice cube, a snow condition that should be avoided by beginners.
Variable Conditions
Conditions at the bottom of a mountain are often different than those at the top. Chalkboards positioned at the base of lifts at many resorts report these differing conditions. The runs may be "frozen granular" at the summit but "wet granular" near the base. It may be blowing snow up top, but clear and sunny at the bottom. Variable conditions are common at any ski resort, so always check before settling into the chairlift.
Writer Bio
Blake Guthrie covers travel, entertainment and outdoor recreation for many outlets, including the Atlanta Journal-Constitution, where he is a regular contributor. With years of experience as a professional cook, Guthrie also relishes writing about food and beverage topics. He earned a Bachelor of Arts in mass communications from Auburn University.