How to Tell the Front From the Back of a Skateboard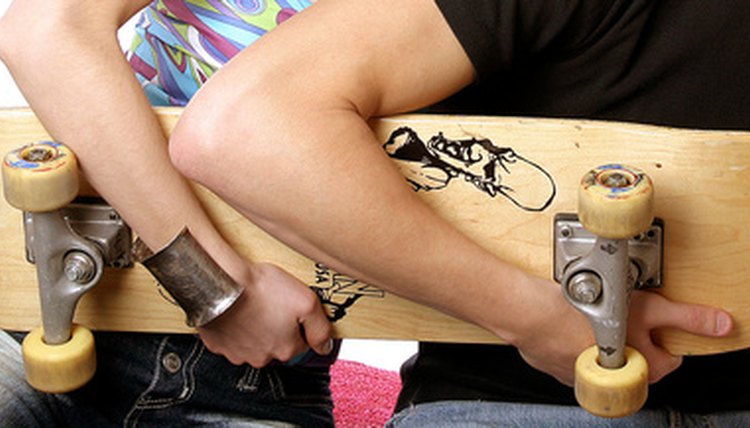 Skateboard decks come in a variety of styles, lengths and foot placement styles. The platform the wheels and trucks mount to is called the deck. Decks are either bidirectional or front and back based. Most decks that are front and back based are long board style. This is a style of skateboard that uses a longer, narrower deck and is used more for speed and arc curves versus park and trick-style riding. Look at the nose and tail to determine the front and back.
Set the deck onto the ground and look for the curved nose and tail. The curve is where the wood of the deck flares up from the length of the skateboard deck.
Look for the narrower end of the skateboard. On long board style decks, a long and narrow tail indicates the back of the deck, with a flared and less-narrow nose.
Measure the front nose width at the start of the curve going from one end of the deck base at the curve start to the opposite end of the curve. Measure the back end at the curve. The longer curve is the back, with the shorter being the front.
Check the measurements for equal lengths. Decks like this are used with either end being the front or back.
References
Writer Bio
A former Alaskan of 20 years, Eric Cedric now resides in California. He's published in "Outside" and "Backpacker" and has written a book on life in small-town Alaska, "North by Southeast." Cedric was a professional mountain guide and backcountry expedition leader for 18 years. He worked in Russia, Iceland, Greece, Turkey and Belize. Cedric attended Syracuse University and is a private pilot.