The Best Type of Bicycle for Gravel Roads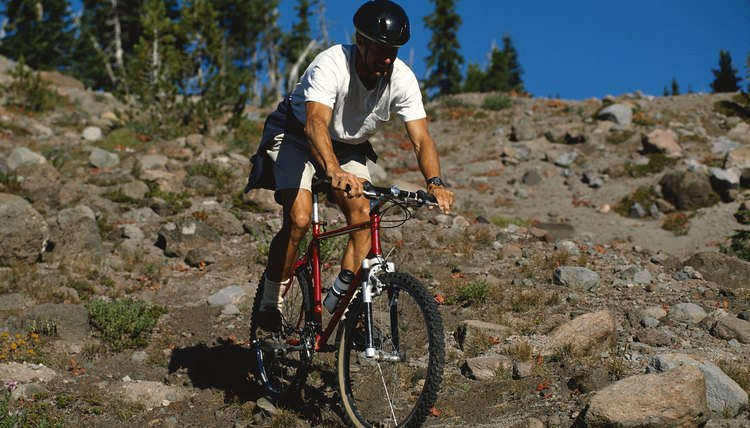 Cycling on gravel roads can be a serious challenge for a traditional road bike. Thin, smooth tires can skid and slide dangerously in the uneven terrain, and the bike is poorly equipped to gain enough traction to effectively brake. If your daily commute or training ride includes gravel roads, or you're looking for a new challenge, getting a bike specifically designed to handle gravel can give you confidence on the most difficult terrain.
Tires
The most important feature for a bike best suited to gravel roads is the tire. Tread determines how well a tire grips to unstable terrain, and the knobs found on off-road tires work like teeth, biting into the shifting gravel and providing ample traction and control to the rider. These tires are usually taller and wider than road bike tires, so they require greater clearance in the frame and fork to be properly installed.
Cyclocross Bikes
Cyclocross bikes are built like traditional road bikes, but with greater clearance in the frame and fork to accommodate a knobby tire. These bikes are ideal for gravel when compared to a traditional road bike; the teeth of the tire provide a substantial increase in control. A cyclocross bike is the best bike for gravel if your route is of varying terrain, because their lightweight and aggressive racing geometry will allow you to move quickly on road and off.
Mountain Bikes
For the best control on gravel and other difficult terrain, the mountain bike excels. With the widest, knobbiest tires available, these bikes are designed for off-roading. Mountain bikes place the rider in a more upright position for comfort and control on rough terrain, and handle gravel and worse with ease. Most mountain bikes have a suspension system in the fork and/or frame that makes riding off-road more comfortable while providing better control. Mountain bikes are heavier and less efficient than cyclocross and road bikes, so your performance on pavement will decrease.
Hybrid Bikes
Hybrid bikes, also known as comfort bikes, are a combination of features and components from both road and mountain bikes. Unlike a cyclocross bike, a hybrid bike usually features a front fork and the same upright geometry of a mountain bike, giving you greater control on gravel and other loose terrain. The handlebars on a hybrid bike are the same as those found on mountain bikes, which spaces your hands far apart along a flat bar, giving you greater control to prevent a skid or slide on gravel. The tires on hybrid bikes are usually smooth like a road bike, making this the best choice for a route that is primarily on pavement, with a short section of gravel.
References
Resources
Writer Bio
Max Roman Dilthey is a science, health and culture writer currently pursuing a master's of sustainability science. Based in Massachusetts, he blogs about cycling at MaxTheCyclist.com.