The Best Ways to Attach a Race Bib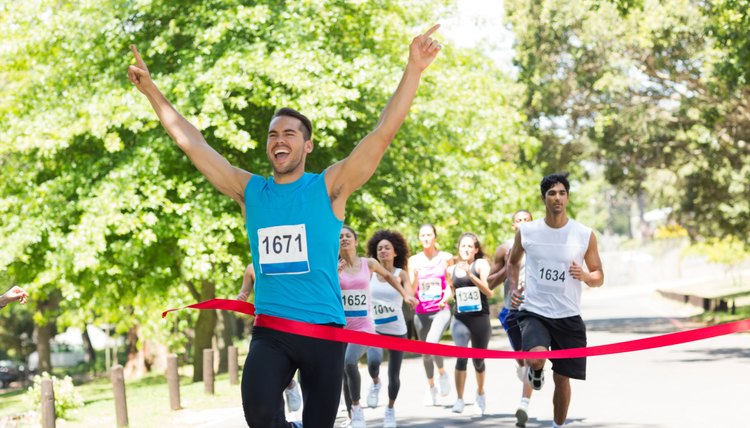 A properly attached race bib is essential during any race. Timing chips that provide proof of splits and finishing times are sometimes embedded in the bib. The bib also identifies you as an official participant. In courses with multiple events or distances, the color of your bib can help a race official or volunteer determine which event you're participating in and if you're going in the right direction. During running events, the bib should always be visible on the front of your shirt. For cycling events, the bib number must be present when you're in racing position -- it should usually be along the midline of your back or slightly to the right on your back so officials in cars or on motorcycles can easily identify you. Safety pins work and are among the easiest methods for attaching a bib, but a race number belt may be the best option.
Pins, Race Belts and Adhesive
Safety pins hold down all four bib corners and affix easily to your shirt. But they can put holes in high-tech fabric and cause the bib to buckle, rather than lie flat. A race belt with toggle attachments that thread through the holes of your race bib means no puncturing of your shirt. It's also the best method for triathletes who change gear, and sometimes clothing, during transition -- you just wrap it around your waist and fasten it. You can then position the bib to your back while on the bike and turn it to face the front for the run. A race belt with a small pouch adds convenience for runners who must carry keys, gels or a music player. If you need to peel off a layer, a race belt also ensures the bib is always visible. A specially made adhesive tape that you apply to the back of the bib and an adhesive spray that doesn't damage your shirt are less common methods for attaching your bib, but are favored by some athletes.
References
Writer Bio
Andrea Cespedes is a professionally trained chef who has focused studies in nutrition. With more than 20 years of experience in the fitness industry, she coaches cycling and running and teaches Pilates and yoga. She is an American Council on Exercise-certified personal trainer, RYT-200 and has degrees from Princeton and Columbia University.