What Can I Put on My Basketball Shoes to Prevent Slipping?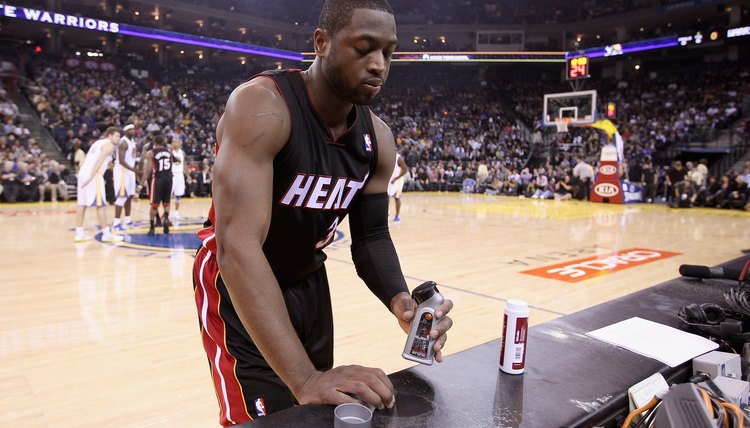 Slippage is the enemy that slides sneakers across dusty floors like automobiles on black ice, with treacherous results. "My game is all about traction -- all about change of direction," says Dwyane Wade, seven-time Miami Heat All-Star. "When I step on a dusty court, I feel like I can't make the moves I want to make. Plus, I'm more at risk for injury." Slippage elimination delivers balance, control and stability. The key lies in the soles of your basketball shoes.
Dust Happens
Gym events preceding games leave little time for cleanup before play. Hardwood quickly cakes with grime dragged in by fans and players. Dust becomes downright dangerous, building up on soles and diminishing traction. Dirty shoes slip, reduce player effectiveness and lead to potential injuries. Los Angeles Clipper Chris Wilcox concurs: "If you got slick [shoe] bottoms, you can't grip and that means you can't plant, stay with your man or fly."
Traditionally, players cleared their soles with saliva. Some spat puddles onto the court for sneaker rinsing. Others licked fingers or spat into palms before rubbing grime off their shoes. Wade noted that, "It's disgusting," not to mention unsanitary.
Sticky Traction Mats
Sticky traction mats are placed courtside where players quickly walk grime off their feet before play. The base anchors a replaceable stack of 50 recyclable polyethylene sheets. The ribbed rubber back secures it while protecting flooring. Shoe dirt sticks to clear adhesive-coated sheets without transferring stickiness back onto soles.
The tacky top sheet captures dirt, dust and floor wax, preventing it from accumulating on shoes. Players strip off sheets as they get nasty, exposing fresh ones. "Spitting on your shoes works," claims Rory O'Neil, starting center for the University of Southern California. "The [sticky mat] is just more convenient and keeps your hands and mouth cleaner."
The Acetone Solution
The makers of an acetone-based outsole applicant claim to have revolutionized basketball with traction technology. The product is engineered to clean and restore tackiness to sneakers without making them sticky, thereby preventing slips and enhancing court performance. Wade has tested and approved the product and assisted with the design of its applicator.
Constructed similarly to a roll-on antiperspirant, the creation is easy to spread on soles with the attached sponge applicator. It's approved for use by the NBA, NCAA, NFHS, NBAT and intramural, youth and high school play.
The Bottom Lines
Sticky mat sizes range from personal to team, with styles from baseless stacks of sheets to rubber-based models with carrying handles. Prices vary by manufacturer and options. Effective and easy to manage, they've been used by the NCAA Championships since 1994. Custom printing is available.
Acetone solutions are easy to use and portable. The manufacturer asserts that one application remains effective for 10 to 15 playing minutes. An 8-ounce bottle supplies 16 games for one player, applied three times per game.
References
Resources
Writer Bio
A full-time writer since 2007, Axl J. Amistaadt is a DMS 2013 Outstanding Contributor Award recipient. He publishes online articles with major focus on pets, wildlife, gardening and fitness. He also covers parenting, juvenile science experiments, cooking and alternative/home remedies. Amistaadt has written book reviews for Work At Home Truth.