What does fact checked mean?
At SportsRec, we strive to deliver objective content that is accurate and up-to-date. Our team periodically reviews articles in order to ensure content quality. The sources cited below consist of evidence from peer-reviewed journals, prominent medical organizations, academic associations, and government data.
The information contained on this site is for informational purposes only, and should not be used as a substitute for the advice of a professional health care provider. Please check with the appropriate physician regarding health questions and concerns. Although we strive to deliver accurate and up-to-date information, no guarantee to that effect is made.
How to Track Running Distances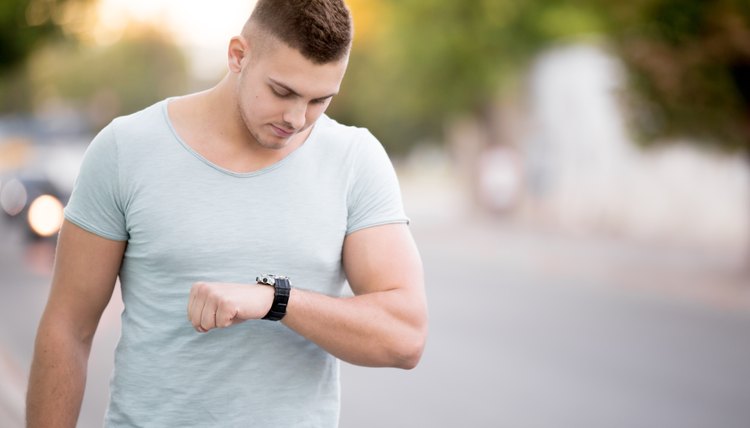 Tracking your running distance can be helpful to determine your training volume, calorie expenditure and performance progress. There are a variety of ways to track your mileage. Your method of choice may depend on the equipment you have available or personal preference.
Get Technical
Buy a gadget. If you are serious about your running and want to track more than just your distance, such as your pace or elevation at specific points in the workout, going technical may be your best bet. While running and fitness gadgets can range in price, ease of use and reliability, there are a variety of options available including watches, arm bands and clips. Some gadgets come with built-in GPS, while others utilize pedometers or accelerometers to track steps or movement. The more exact you want your data, the more you are likely to pay. Read product reviews before purchasing a fitness tracking device.
Use an app. Many smartphone applications are available for runners. Most apps have a free version and an upgraded version for a small fee. If you just want to know your distance and average pace, the free version usually does the trick. However, in order to track your mileage live on your run, you will need to use a phone with GPS service to pick up your route. These apps often have options such as verbal notifications for average pace and distance throughout your run and can be useful when you have not planned out your route in advance.
Map your run. When you get home, turn on your computer and direct your browser to your favorite map site. Interactive exercise websites are available that allow you to map out your route and provide you with workout data. Many of the apps available for smartphones have a website option available. This comes in handy if you do not have a smartphone.
Go Old School
Visit your local track. While your run may not be as scenic, your distances are already mapped out for you. Simply note how many laps you complete to calculate your total distance. A standard outdoor track is a 400 meter oval. Therefore, four laps are equivalent to one mile. Check for facility signage or lane markings to be sure.
Drive your course. This takes a little prep time, but it can help you plan your running route in advance. Set the odometer of your car to zero and note the mileage of your trip.
Try a marked trail. If you live near a biking or multi-use trail, the path is likely to have mileage markings. If you do not start at the beginning of the route, note which mile marker you start near and do the math to determine your final distance.
References
Resources
Writer Bio
Christine St. Laurent holds a Master of Science in kinesiology from James Madison University. She has worked in hospital, university, sports performance and spa-based fitness and wellness centers as a personal trainer, program leader and group fitness instructor. St. Laurent has also taught college-level courses in exercise science. She is the owner of a personal-training and group-exercise studio in Manchester, Conn.