Columbia 3-Speed Bikes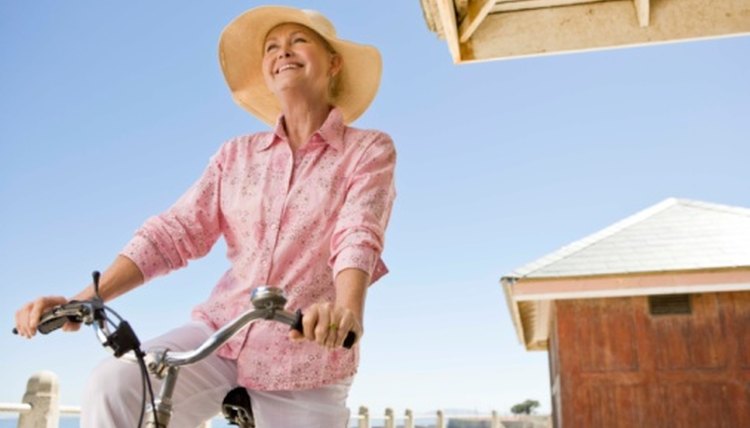 Columbia 3-speed bicycles, manufactured by Columbia Manufacturing, Inc., were popularized in the U.S. in the 1950s. Considered a vintage bike and no longer in production, Columbia designed its 3-speed bikes to provide reliable personal transportation for short commutes. More than 100 million bikes are manufactured worldwide each year, with the U.S. contributing to approximately 1 percent of the production, according to the International Bicycle Fund.
History
Columbia Manufacturing, Inc., originally named Pope Manufacturing Company, was founded in 1877 by Colonel Albert Pope in Boston, Massachusetts. Throughout its years of production, Columbia experienced an unstable financial history, including two bankruptcies, according to Kenneth Kowal, a Columbia employee on the MrColumbia site. In addition to a variety of bikes, Columbia also designs and produces furniture for a variety of markets, such as schools and home offices. Invented in the early 1900s, 3-speed bikes experienced a surge in usage from the 1950s to the 1970s, when bikes with derailleurs became popular.
Identification
You can purchase Columbia 3-speed bikes, which are no longer in production, though used bicycle dealers or through person to person sales. Columbia Manufacturing provides a chart on its website to help you identify the year your Columbia 3-speed bike was produced. Identify your bike's manufacturing date by locating the serial number stamped on the bike and referring the the chart. While you can quickly determine the manufacturing date of any Columbia bike produced from 1996 to 1972, Columbia does not provide a fair market value estimate for vintage bikes.
Features
Columbia 3-speed bikes feature three gear options, typically labeled at low, medium and high. Some models label the gears numerically with a 1 indicating the lowest or easiest gear and a 3 indicating the highest-resistance gear. Three-speed bikes allow you to switch gears while backpedaling, an advantage over derailleur bikes which require forward pedaling motion. Columbia 3-speeds also feature upright handlebars, chrome front and rear fenders, a steel frame and handbrakes.
Function
Three-speed bikes, also referred to as cruiser or comfort bikes, effectively function as a commuter bike for short to medium-length commutes. Bike transportation accounts for 1 percent of all trips made in the U.S., according to the International Bicycle Fund, and 3-speed bikes offer an inexpensive, energy-efficient mode of transportation. Columbia 3-speeds feature a simple gear mechanism that functions as a quick means to change the resistance-level and speed of travel, an important feature when traveling uphill or commuting in high-traffic areas.
Considerations
While vintage Columbia 3-speed bikes serve as an inexpensive, reliable cruiser or commuter bike, Columbia Manufacturing, Inc. no longer provides replacement parts for older bikes. Repairs may prove costly and difficult to obtain. Try speaking with your local bike retail dealer for used parts availability, repair and restoration information regarding your Columbia 3-speed bike.
References
Writer Bio
Sunny Griffis, a certified performance technologist, is a fitness coach who has been a professional writer since 1998. Her work can be seen in online and print publications such as "Family Fun," "Cappers," "Rutherford Woman Magazine" and "Healthy Family Magazine." She holds a Bachelor of Arts in metaphysics from AIHT, and a CPT certification from NFPT.