How to Make Men's Legs Appear Longer in Pants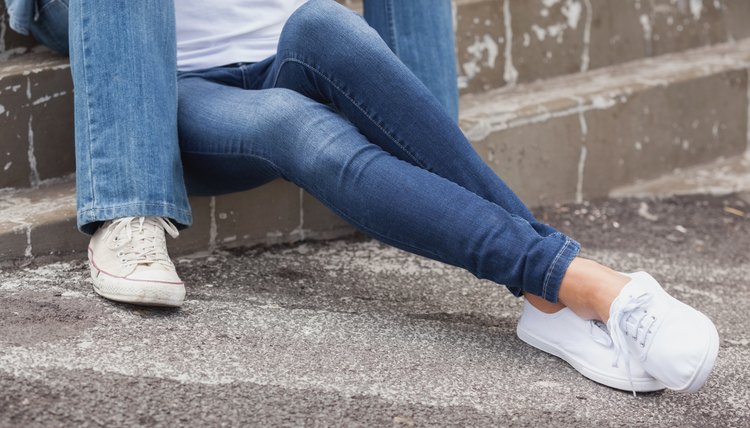 If you want to make your legs appear longer, skip the thick-heeled shoes-- all you really need is the right pair of pants. While a properly fitting pair of pants makes your legs look longer, a poorly fitting pair makes you look squat. If you can't find the perfect pair in-store, taking your pants to a tailor makes it easy to achieve the look you're going for.
Choose pants with a short rise. Pants with a long rise look baggy in the crotch, like you're wearing pants that belong on a taller person.
Show off your legs with form-fitting pants. If your pants are baggy, you look smaller, and if they're too tight, you look and feel uncomfortable. Go with straight-legged dress pants and either straight-legged or boot-cut jeans-- boot-cut jeans give you a little extra shape with a subtle flare at the bottom.
Ask your tailor to hem your pants at the bottom. Cuffed pant legs make your legs look too short for your clothes, so stick with a simple hem-- it makes them look like the perfect fit.
Choose your colors wisely. Solid colors are better than patterns, though pinstripes have a slimming effect that makes your legs appear longer. Your pants should closely match the color of your jacket-- contrast makes your legs look shorter.
Minimize pleats. While pants without pleats are the best for making your legs look longer, if you feel strongly about wearing pleated pants, just choose ones with shallow pleats. Deep ones make you look squat.
References
Writer Bio
Tom Ryan is a freelance writer, editor and English tutor. He graduated from the University of Pittsburgh with a degree in English writing, and has also worked as an arts and entertainment reporter with "The Pitt News" and a public relations and advertising copywriter with the Carnegie Library of Pittsburgh.