Purpose of Leg Warmers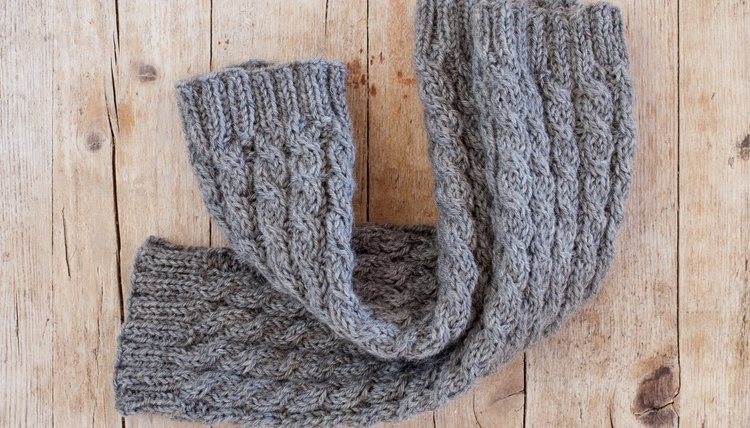 Leg warmers have run the gamut of fashion, from uniform item to fashion accessory in the 1980s. No matter how you wear them, the purpose of leg warmers was originally more helpful for athletes before it became a way to keep your legs warm while wearing some of your favorite styles. While fashion has since moved away from using leg warmers as an accessory, leg warmers will always be a part of the fashion landscape, regardless of their true purpose.
History
It's unclear when leg warmers became part of the regular uniform for those practicing ballet. Dance wear manufacturer Saks Moving Wear cites the late 20th century for bringing leg warmers into popularity for dancers, and subsequently for fashionable society. Today, leg warmers are still manufactured for both purposes.
Ballet and Athleticism
When practicing ballet, other forms of dance or sports in which limber legs are a necessity, leg warmers are used to keep the bottom half of the leg warm and toned, so that ballet dancers can more easily complete complicated dance moves. While they are not often used as parts of costumes for performance ballet, leg warmers are still highly utilized during practices to keep the legs warm in cold studios. Leg warmers have been replaced in recent years by dance pants, which are usually made of a stretchy material, but don't have the same amount of versatility and movement that leg warmers do.
Fashion Profile
The 1980s were one of the most eclectic and free eras when it came to fashion and style. A bevy of seemingly crazy and loud fashions were debuted, including neon accessories, acid wash jeans and a whole lot of Aqua Net. Leg warmers were worn by women, and made famous by stars such as Madonna and Cyndi Lauper. They also got a big boost from the movie "Flashdance." Worn over jeans or under skirts, they lent an element of color and depth to bright 1980s outfits.
Modern Applications
You can still purchase leg warmers at a variety of trendy retailers today. Some young starlets wear them over leggings to keep their legs warm while wearing short skirts, and designers such as Y-3 showed leg warmers as part of their recent collections. Today, modern trendsetters choose to wear leg warmers in a more demure manner, with a monochromatic color palette or with more layered looks.
Other Purposes
Leg warmers aren't just to keep dancers' legs warm and limber. Some women wear them on their arms to give a layered T-shirt look without having to wear an extra shirt. You can use them to make a pair of knee-high boots fit a little more snugly around the calf. Picking up a pair of neutral leg warmers can inspire you to find new purposes for a long-lasting fashion trend that has yet to fizzle.
Writer Bio
Kay Ireland specializes in health, fitness and lifestyle topics. She is a support worker in the neonatal intensive care and antepartum units of her local hospital and recently became a certified group fitness instructor.