Should Men Wear Round or V-Neck Undershirts?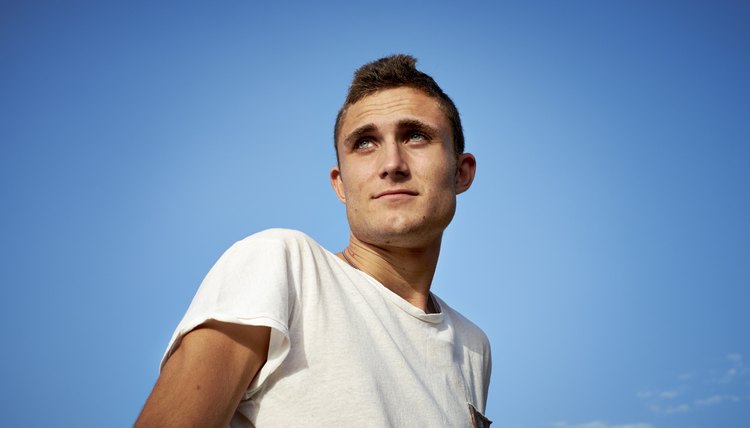 Undershirts are a men's wardrobe staple, providing a comfortable layer of protection between the body and clothing. Choosing a crewneck or V-neck style depends on what you'll be wearing. The easy part is both styles fit every body type.
Crewneck
T-shirts with round necklines are called crewnecks. This style is the most classic and formal man's undershirt style. It should be worn when a man is wearing a shirt buttoned all the way up, such as when he's wearing a necktie. Because the tee neckline rises to just below the neck, it doesn't create an unsightly, shadow beneath the shirt as a V-neck would. The crewneck style also looks good under a V-neck sweater, adding polish to a casual look.
V-neck
The V-neck silhouette is more casual than the crewneck. It is intended to be worn with an open-collar or open-neck shirt, providing warmth or sweat protection while hidden from view. It's also a better style option when a guy wants to wear a tee under a golf or polo shirt. Sleeveless ribbed tees are not a good substitute because they don't cover the armpits and may create an unattractive outline under a shirt.
Styling Tips
For work and dressy occasions, undershirts should not be visible. For casual settings, visible undershirts are acceptable. Cotton is the most comfortable fabric, as stretchy variations may fit more snugly, but tend to feel sticky or itchy after a while. White is a classic color staple, especially if your shirt is white or your attire is on the dressy side. Gray, black and other colors can complement casual ensembles and be worn with a blazer for dressy-casual occasions.
Tank Option
Sleeveless T-shirts, also known as tank tops, may be the most popular men's undershirt. They technically have a round neck, although it's actually a scoop. The deeper neckline, absence of sleeves and a ribbed texture make the tank the most casual T-shirt style. It can be worn instead of a V-neck or crewneck. However, if it's white and you're wearing a white shirt over it for work or a dressy occasion, you can come off as sloppy. Go with another color, such as gray, that will not show through the shirt.
References
Writer Bio
LaMont Jones was an award-winning fashion and beauty editor for a decade at the "Pittsburgh Post-Gazette." A five-time nominator and judge of the CFDA Awards, he covers New York Fashion Week regularly. Jones is a 2011 inductee into the Pittsburgh Fashion Hall of Fame and coaches fashion models.