Teri Hatcher's Diet and Motivation Advice to Get Marathon Fit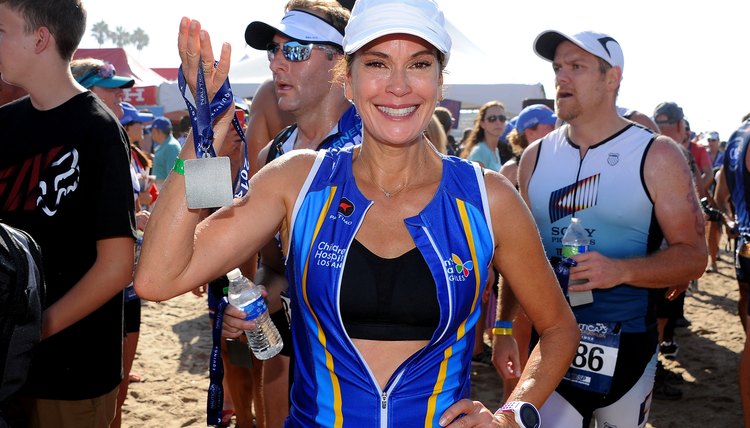 After cheerleading for the San Francisco 49ers in her 20s and dancing through her 30s, former "Desperate Housewives" actress Teri Hatcher realized her daily 10-minute workout wasn't going to help achieve her greater endurance goals. Now arguably fitter than ever, Hatcher is excelling as an over-40 athlete.
What's she doing right? For starters, she's doesn't diet.
What Teri Hatcher Eats
Foods Hatcher ate without concern when she was younger are the same ones she enjoys in her 40s. Only now she's eating to optimize energy levels and recovery. "For me, nutrition is not about weight, and I never think of diet at all -- it's about health," says the Golden Globe winner.
Neither a calorie counter nor portion-control conscious, Hatcher follows practical rules while cooking at home. "I don't eat crap -- potato chips or corn syrup or processed food," she says. "I'm a farm-to-table person. I will cook in butter or olive oil. I eat protein and vegetables."
After "Housewives" ended, Hatcher enrolled in Le Cordon Bleu in Pasadena, California, for culinary training, which makes her self-designed sports nutrition tastier. "I love a beautiful lamb chop, medium rare, seared on the outside. I serve that with quinoa, spinach and kale."
Hatcher, who made her directorial debut on an episode of "Twisted" for ABC Family, has an arsenal of go-to recipes that align with her training goals. "One of my favorite things to make is caramelized onions and cabbage. I love making fish tacos with that as a base and then salsa and fresh avocado on top."
Another filling, muscle-fueling dish Hatcher relies on is served family-style. "One go-to meal is jambalaya in a giant clay pot with organic rice, peppers, onions, celery and all the Cajun spice and three kinds of sausage and shrimp. It's healthy because it's got a nice balance of protein and carbs."
Still, Hatcher knows a healthful diet alone doesn't give her a fit and firm body. "I think about exercise a lot." And now more than ever.
How Teri Hatcher Reaches Her Fitness Goals
Along with training for a triathlon (more on this later), Hatcher also started training in July for the New York City Marathon to raise funds for Sean Penn's J/P Haitian Relief Organization. The group offers medical and community-building aid, including camp management with protection and communications, engineering and construction, and education facilities to the areas of Haiti devastated by the 2010 earthquake.
"I want to do it in four hours," Hatcher says. "And my overall fitness goal is to be in better shape tomorrow than today."
Years before committing to her current endurance goals, Hatcher followed a 10-minute, high-intensity, body-weight workout featuring 12 exercises alternating upper- and lower-body moves. It was a quick toner she could do on the set of various TV shows in the time she had between working and caring for her daughter.
After friends gave her a 21-speed bike as a birthday gift, Hatcher began cycling to work in her early 40s. During a ride, she was inspired to pair her fundraising efforts with fitness. She began cross-training, mixing in running and swimming for her first mini-triathlon. She rode this bike when she competed in the 2009 Nautica Malibu Triathlon (a half-mile ocean swim, an 18-mile bike ride and a four-mile run), completing the race in 2:07.
But the running leg of this race was only four miles (Hatcher did it in 37:07, or about a nine-minute-mile pace). And while Hatcher had maintained her recreational running in the two years since Wisteria Lane, the New York City Marathon, at 26.2 miles, is a much larger event on one of the world's most intimidating courses, even for professional runners.
To help her ramp up her mileage, Hatcher uses the fitness app 26point2 when she runs outdoors with her daughter. "Almost every other day I run, and [at this point in the training program] I'm running between six and 11 miles. I run in my neighborhood and other places in Malibu by the beach. By Disney Studios there's a path that runs along the L.A. River Wash that goes 20 miles."
Hatcher varies her running sessions from steady pace to interval bursts, pushing the threshold until her breathing is sharp and muscles are working to fatigue. Moving through these intensity zones in the same workout means she hikes up the calorie burn as she trains to improve her running speed.
As she built her long-run program for the marathon, Hatcher also cross-trained for the 2014 Malibu Triathlon, which took place on Sunday, September 14. "Two days a week I swim half a mile, and two days a week I'm riding 20 miles," she says.
Teri Hatcher's Strength-Training and Recovery Plan
While Hatcher needed to continue aerobic workouts to meet her endurance goals, prioritizing exercises that put progressively greater force on muscle and bone became essential the further she ran.
After age 30, muscle mass decreases at a rate of a half-pound per year if an individual doesn't exercise at least three times a week. The chemical makeup in the body changes and the physical decline makes the heart less efficient and the body has less fat-burning muscle. The notion is over-40 athletes can no longer improve on the body's production of hormones that are critical to building muscle and recovery. Hatcher's sexy, slim body, it seemed, would continue to decline as she trained for the greatest fitness challenge she'd ever attempted.
However, Hatcher had other plans. After she discovered weight training was the smartest way to improve bone density and muscle-preserving metabolism, Hatcher sought out a new workout that would help her yield the best results in the time available.
"Last November I joined a gym in Studio City called CrossFit Horsepower, and two days a week I'm with a trainer doing weights," says Hatcher. "The community at the gym and the interval training of weights and cardio really stuck with me."
Mixing plyometric body-weight moves such as burpees with Olympic bar lifts, squats, deadlifts, bench presses and pull-ups, Hatcher's strength-training workouts offer variety, keeping her sessions fresh. CrossFit also integrates progression. Often performing as many reps as possible in a given time (AMRAP, in CrossFit terms), Hatcher sees improved results in muscle tone by increasing resistance or weight load. These workouts boost her brain and her body with muscle-building hormones in only 20 minutes (give or take, depending on the workout).
"It was the first time I looked forward to working out. And that's when I started to see better results and get in better shape and get more aggressive about lifting weights and being strong." After that, she says, "J/P HRO approached me about running the marathon on the team."
All that strength training can leave Hatcher pushed, pulled and pooped. So she makes time for rest, another important training component. "In your 40s, you just have to pay attention to everything because you can play hard and work hard as when you were in your 20s," she says. "But you have to recover to make up the damage."
Hatcher takes two days of recovery time to maximize her training response. Recovery days ward off overtraining, which shows itself through symptoms such as prolonged muscles soreness, sluggish energy, lack of motivation, sleep disruption and irritable mood. She also avoids training the same muscles two days in succession to give her muscles time to adapt for her next workout.
"The only thing I've noticed is that my feet hurt all the time, and not just from running," says Hatcher, who added calf stretches, ice baths and massages with a golf ball for her feet into her recovery plan. "After the triathlon, I'll stop swimming and biking and add yoga."
Four Ways Teri Hatcher Stays Motivated
A healthy diet and exercise are only effective if Hatcher can be consistent. What if she becomes overconfident in her abilities and lazy with her training? Or bored running long distances? Hatcher knows she won't be able to compete in November. Several motivational keys lock up Hatcher's deadbolt determination.
"As much as I have exercised over my life, it's always hard. I'm not one of those people who love the idea of doing it. I don't say, 'Yeah, I get to run!'"
Says Hatcher, "Today I did the giant Mulholland Drive run, and it was hot, but I love when I'm finished. I love the way it makes me feel. I love being strong. I love being healthy. So knowing all the benefits is what drives me through doing it in the first place."
Hatcher's core motivation is intrinsic -- she exercises for the physical rewards, a buoyant mood and a clear mind. But she also taps resources to support her marathon goal.
Tap the power of group exercise. Whether on runs with her daughter or pairing up with buddies in the CrossFit box, the spirit of camaraderie and competition helps Hatcher exercise longer, more often, have fun, cheer on others, hold herself accountable and provide structure, all of which reinforces positive behaviors that lead to consistent workouts.

Make time for exercise. As she gets older, exercise has moved up on Hatcher's list of things to do. "My daughter's older and I'm not working as intensely as in other times in my life. This gives me more time to exercise, which makes me stronger, so I take advantage of that," Hatcher, whose life in L.A. revolves around caring for a child in high school, working on new projects, reading, cooking and volunteering at a children's hospital, says.
"As a single mom who was the only income support in my family for more than 15 years, your daughter and your job come first, and exercise comes way after that. So fitness after 40 means to me a point in my life where I have the opportunity to be more selfish and focus on my health and put it ahead of other things that used to be first."
Focus on results to handle obstacles. Hatcher respects that having time to work out is as much a luxury as having the ability to exercise. "I had a bout after my first triathlon with frozen shoulder [stiffness and pain when the joint capsule of the shoulder joint becomes inflamed], which was debilitating and depressing. It left me unable to lift my left arm for a year and a half, so I went from triathlon athlete to not being able to move my left arm."
When immobility made getting dressed difficult, exercise was halted. Missed workouts left her unfit and feeble. But she kept her focus when her workouts were derailed. She was motivated by the risks of high blood pressure, diabetes and other illnesses that await naturally thin people with a metabolism that incinerates burgers and fries who seem visibly fit yet are inactive.
"You can be thin and out of shape, and that's equally bad," Hatcher says. "I don't concentrate on weight. I think about [things like] how strong are you, how far can you run, what weight can you lift, can you carry luggage up and down the stairs." By focusing on the results, she rebuilt body confidence with each session.
Use fear factors. As Hatcher's level of fitness moves ever higher, two kinds of fear --external and internal -- prompt her to stay fit. "I like to confront things I've never done that bring about a bit of fear," says Hatcher. "That could be kayaking in the ocean, or that could be climbing some mountain."
A fear of disappointment also motivates her. "When I'm doing an event on behalf of someone for a cause, it's easy for me to put my fears [of the physical challenge] aside because the cause is the bigger thing, and you feel like you don't want to let people down because they need you, and that's more important than whatever fear you may be having. It's the discipline of knowing I want to show up on November 2 prepared."
The right diet, exercise and motivation all play a role in how Hatcher stays fit now, encouraging her to go for even bolder athletic aspirations. "The month after the New York City marathon, Tuc Watkins -- who played one of the neighbors on "Desperate Housewives" -- and some buddies and I are doing the Spartan Mud Race two days before my birthday."
Hatcher will turn 50.
Resources
Writer Bio
Based in Toronto, Monique Savin has been a journalist since 2005. As a columnist and multimedia producer, she has worked with national newspapers such as "The Globe and Mail" and various magazines.