Tips for Running 30 to 35 Miles a Week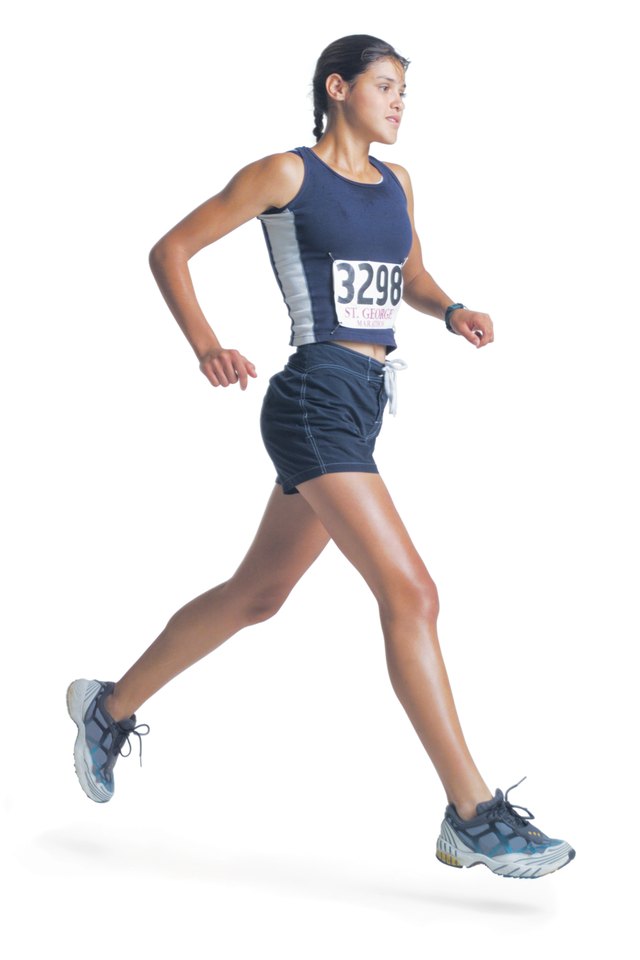 To increase your weekly mileage to 30 to 35 miles, all you need is time and a good pair of running shoes. Depending on your speed, you'll need to carve out around 45 minutes five days a week and up to 90 minutes once a week for a long run. If you're a novice runner, consult with your physician before undertaking an aggressive running program, especially if you have a history of heart problems or leg injuries.
Build Your Mileage
The time frame for building up to a weekly mileage of 30 to 35 depends on your current running schedule. For example, if you're already logging eight to 12 miles per week with one long run of three to four miles, increase your long run to six miles over the next two weeks as your first step toward your total mileage goal. Schedule four to five shorter runs of three to six miles throughout the week. Schedule your rest day for the day after your long run to give your body time to recover.
Training Schedule
Work up to 20 weekly miles first. Running coach and author Shelley Glover suggests doing five weeks of running at the 20-mile-per-week level, including two runs each of three and four miles and one long run of six miles. From this point, add distance to your shorter runs and your long run, increasing your total mileage by one to two miles per week over a 10-week period. At the 30-mile point, Glover suggests three runs of four miles each, two runs of three miles each and one long run of 12 miles. To reach 35 miles, follow the same pattern, adding one to two miles to your weekly total until you achieve your goal.
Staying Motivated
Consider joining a local running group for added support as you build up your long runs. Or find a running buddy with similar mileage goals and work out together a few times each week. Signing up for a half-marathon or marathon may also help you stay motivated to build and maintain your high-mileage goals. Online training schedules by experienced marathon trainers will help you build your weekly mileage in preparation for running a 26.2 mile race. These training schedules can help you build mileage whether or not you participate in a road race.
Shoes Matter
The right pair of running shoes is vital when you're logging high miles each week. An associate at a running specialty store can help you match running shoes to your foot type. Once you find the right shoes for you, plan to replace them often, because overworn shoes can lead to injury. The American Academy of Podiatric Sports Medicine suggests that runners replace shoes every 350 to 550 miles. That's every 10 to 15 weeks for runners logging 35 miles per week.
References
Writer Bio
Pam Murphy is a writer specializing in fitness, childcare and business-related topics. She is a member of the National Association for Family Child Care and contributes to various websites. Murphy is a licensed childcare professional and holds a Bachelor of Arts in English from the University of West Georgia.