How Paul Rudd Got Ripped for Ant-Man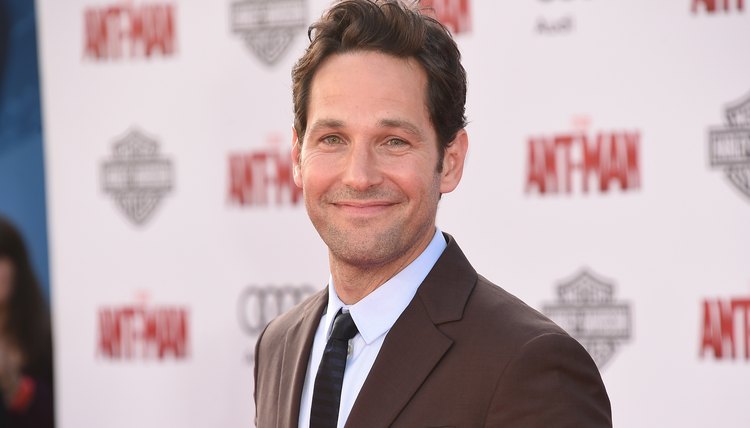 Paul Rudd is opening up about how he went from a normal guy to a superhero and — surprise, surprise — it was anything but easy!
Like Chris Hemsworth, Chris Pratt and Gal Gadot — all of whom have famously gotten into unbelievable shape for out-of-this-world movie roles — the 48-year-old actor transformed his physique to play the leading role in "Ant-Man and the Wasp." He was so successful, in fact, that his abs now have their own Twitter account. Not bad!
So how did he do it?
First, Rudd changed his eating habits by taking the "Chris Pratt approach" to body transformation. Pratt famously shed 60 pounds in six months for his role in "Jurassic World" and continued to bust his butt and eat super healthy for "Guardians of the Galaxy."
"Eliminate anything fun for a year and then you can play a hero," Rudd joked to Variety about his no-frills eating regimen.
In addition to his "insane" no-carb diet, Rudd told People he ditched alcohol for an entire year and basically revolved his entire life around eating and exercising. "My day was centered around fitness and health, and that was kind of a first," he explained to the magazine. "Every other time, I had to go about my day and try and find the time to work out. But [this time] everything else about my day kind of had to fit in around the workouts. I was going to be held accountable for it, and there was a reason for doing it. I wasn't just randomly doing this kind of arbitrarily, which would have made it a lot harder."
As you can imagine, his six-pack status was the product of a grueling routine. In addition to gymnastics-heavy workouts consisting of lots of "flips and rolls and all that kind of stuff," CrossFit BMF's Brendan Johnston revealed to Muscle & Fitness that Rudd did tons of dumbbell bench presses, free weights, rope jumping, pull-ups and ab exercises.
"His work ethic is relentless," Johnston told the magazine. "He sets his mind to something and doesn't stop till the job is done. From strict diet, to supplementation to working out at 5 a.m., he never complained. He only worked."
If you are curious what a day in the life of Rudd's food diary reads like, you are in luck: CNN anchor Jake Tapper, Rudd's pal, was so inspired by his transformation, he embarked on a "modified" version of it.
"It showed me what a 47-year-old, Jewish, middle-aged guy can look like," Tapper told Bon Appétit.
According to Tapper, his Chris Pratt-inspired diet was short on "fun" but highly effective in terms of helping him get in shape. "I do breakfast first, which is a small bowl of oatmeal and some sort of protein like hard-boiled eggs," Tapper said. After working out he moves on to a late-morning protein shake consisting of banana, almond butter, almond milk and ice, and then a "boring" salad with cranberries and chicken (not fried) with an oil-and-vinegar dressing.
After another late-afternoon protein shake, he eats a dinner similar to lunch. According to Tapper, he has already lost 12 pounds and isn't planning on quitting anytime soon.
What can we learn from Rudd's Ant-Man transformation? If you want to look like a superhero (or just simply want to get rid of your muffin top), all it really takes it hard work, discipline — and sobriety.
What Do YOU Think?
Are you inspired by Paul Rudd's ripped Ant-Man body? Have you ever massively transformed your body? What's your number-one tip?
Writer Bio
Leah Groth is a writer and editor currently based in Philadelphia. She has covered topics such as entertainment, parenting, health & wellness for xoJane, Babble, Radar, Fit Pregnancy, Mommy Nearest, Living Healthy and PopDust.