16 Simple Tips to Stay Fit This Winter
With a winter chill in the air, people tend to avoid going outdoors and often skip the gym. But don't let cold weather trump your desire to stay fit this winter.
Instead, arm yourself with some coping strategies. While everyone else is scrambling to stick to their New Year's resolutions, you'll be coasting along, wondering why everyone is stressing about warmer weather and shorts season.
Here are some simple fitness strategies to get you through the winter months:
1. Be sure to warm up indoors before an outdoor workout to get blood flowing to your muscles. Cold and stiff muscles are more prone to injury. Consider jumping jacks, a jog on the treadmill or cycling.
2. Find a workout buddy for the winter season. Having a partner is great for accountability and even a little friendly competition.
3. Post progress pictures on social media
4. Try a new workout or find a fun class to join. Something new and different tends to create excitement and hold your interest longer than the same old workout you've been doing for months on end.
5. Set a goal for the spring, like running a marathon, entering a fitness competition or taking a vacation. With a goal or event to work toward you'll be less likely to slack off.
6. Buy new training gear. New clothes and/or sneakers can often be a great incentive to exercise because you'll want to put your new gear to use. Plus, you can't wear the same tank tops and shorts you wore during your summer workouts, so make sure to layer up.
7. Make it a point to get outside and get some sun. The sunshine and daylight will provide a boost in energy, and the vitamin D from the sun will help regulate the immune system. Just make sure to put on sunscreen! Just because it's winter doesn't mean the harmful rays can't do damage to your skin.
8. Look for gym specials during the winter months. When gyms see a decline in visitors, they often offer incentives to get more people through the door.
9. Take advantage of activities that can only be done in winter, like cross-country skiing, snow skiing and snowboarding. Even a snowball fight or building a snowman with the kids can be great exercise and a great way to truly enjoy the winter season.
10. Keep a food journal as you partake in all of the traditional holiday foods and desserts. Seeing the calories add up on paper may be just the motivation you need to de-ice the car and get to the gym.
11. Avoid wearing baggy and comfy clothes all winter long. They won't tell the truth if you're eating too many desserts or too much sweet potato casserole with brown sugar and marshmallows. Remember that you won't be able to wear those over-size sweaters and sweats forever.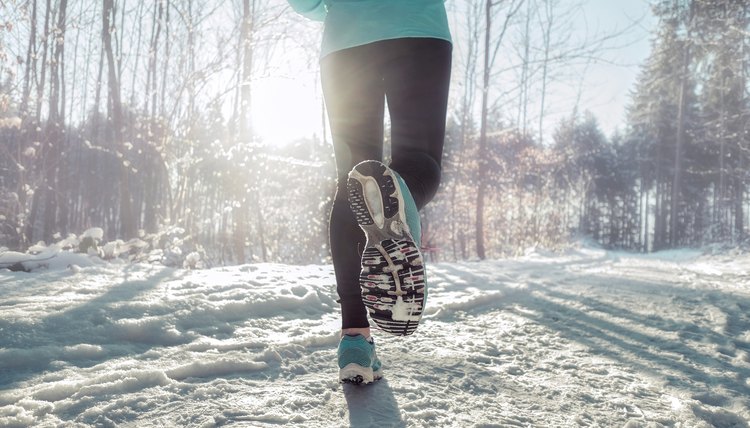 Don't let cold weather keep you from working out!
12. Hire a personal trainer during the winter months. The investment alone may keep you motivated to get to the gym. And it's a trainer's job to help push you safely through a workout even when you might not feel up to it.
13. If you're committed to making your workouts happen in the morning, consider buying yourself an alarm clock that simulates sunrise. It will begin to gradually light the room before the set time, allowing you to gently wake and start your day.
14. Another thing to consider is programming your thermostat to start heating up the house a few degrees before you wake. It's too tempting to stay in bed all warm and toasty when the house is cold and chilly.
15. Download an app for indoor workouts or log on to YouTube for a variety of choices. There are so many free workouts online, and trying something new in the comfort of your own home might be a great way to discover a new fitness passion.
16. Finally, if you have a dog, make a commitment to walk or run with him/her during the winter months. While the cold weather might not be your ideal, it's wonderful for them. The pavement is cooler on their paws, and they generally love the feel of the brisk, cool air.
Writer Bio
Jamie Eason Middleton is a certified personal trainer, fitness model and writer. She has a bachelor's degree in communication and is the official female spokesperson for Bodybuilding.com, a Gold's Gym Fitness Institute Expert and a syndicated writer and columnist for numerous websites and magazines. As creator of the popular Live Fit Trainer and her own Labrada Lean Body for Her Signature Supplement Series, Jamie has helped hundreds of thousands of people reach their fitness goals.