Requirements to Become a Basketball Coach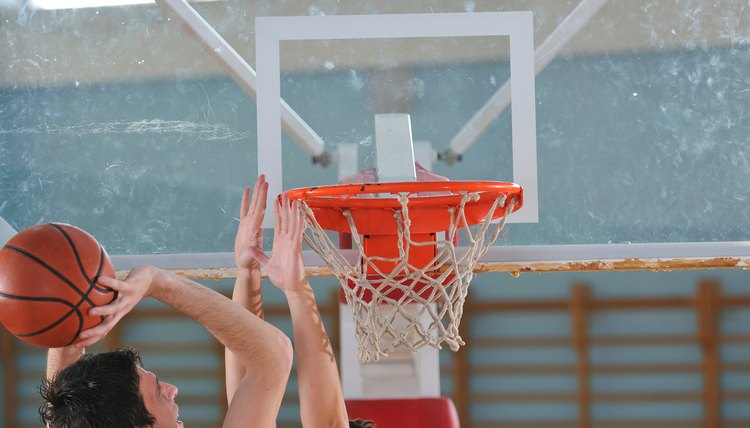 Coaching basketball provides a fun outlet for athletic competition without having to run the court for 40 minutes straight. The level of coaching that you are interested in getting involved with may require different certifications, experience or knowledge. Think about what level you are interested in as well as the knowledge or experience you currently have to see if the two match. Enroll in classes, or start at a lower level of coaching in order to gain any experience you may lack.
Youth Basketball
While it helps for youth basketball coaches to have general knowledge about the sport and a love of the game, many times recreational coaches volunteer because one of their kids plays on the team. Coaching requires a love for kids, buckets of patience and a willingness to learn about the sport and how to run practices and games. If you don't know much about basketball, you may feel overwhelmed, but keep this in mind: according to a study performed at the University of Washington, researchers found that young players whose coaches focused on personal improvement, having fun and supporting one another showed less sports-related anxiety than those whose coaches didn't have this focus. Additionally, the KidsHealth.org website found that 60 percent of the youth participating in a survey preferred coaches who gave everyone a chance to play.
School Basketball
Depending on the state you live in, you might find different requirements for school-sponsored, competitive basketball teams. Many states, particularly those that provide athletics as an academic class, require that coaches hold teaching licenses and coaching or other subject-matter endorsements. Some states, like Oregon, that consider athletics as purely extracurricular, may hire coaches with experience and knowledge of basketball and coaching, but without specific licenses or certifications, or they may pay an additional stipend to certified teachers who also sign on to coach a given sport.
Most colleges and universities offer majors in physical education, kinesiology, exercise and sport science or coaching, with additional coursework preparing you for the teacher licensing tests in your state. If you already have a degree, and you only need a license, most universities offer coursework specific to teacher certification that will prepare you for the test.
If you want to coach college basketball, keep in mind that experience is a must. In most cases, universities and colleges look for former college-level athletes whose knowledge of college basketball comes in part from personal experience. In other cases, high school basketball coaches who display consistent success and competence might be considered for college coaching positions.
Select Basketball
Select, club or tournament teams geared toward youth basketball players of all ages often do not require certifications or specific knowledge. The Amateur Athletic Union (AAU), the primary organization to sponsor club basketball events, does not require anything specific of coaches; you must simply pay the appropriate dues for your team. That said, these teams require you to recruit players willing to pay the dues and fees, and if you want to receive compensation for your time, they have to be willing to pay you for your time. Generally, this means that you have proven yourself as knowledgeable and experienced within the field of basketball and coaching.
References
Resources
Writer Bio
Laura Williams has worked in recreation management since 2004. She holds a master's degree in exercise and sport science education from Texas State University, as well as a B.A. in exercise and sport science from the University of Mary Hardin-Baylor.