What Are the Results from Using Kinesis Exercise Machines?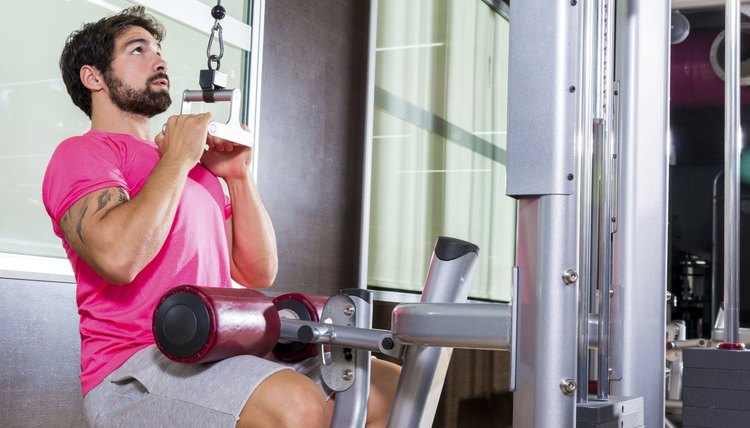 Technogym's Kinesis machine is a sleek set of cable and pulley resistance exercise systems that takes up less space than a bicycle rack. This machine can be used to complete dozens of exercise routines at hundreds of varying intensity levels. Because of its versatility, Kinesis enables fine turning of exercise programs, and you can change the intensity level by simply increasing your distance from the pulleys.
Steady Gains in Strength
Kinesis is designed for resistance exercise programs, and unlike traditional weighted cable equipment, this machine provides free movement, which proves to be more challenging for a workout. The primary targets of Kinesis include core strength, body strength and endurance. A study using Kinesis fitness equipment at the Cooper Aerobics Center in 2007 demonstrated significant gains in overall body strength over six weeks. These participants saw an increase in upper and lower body strength, an increase in muscular endurance and gains in muscle mass that had not been achieved by traditional strength training.
Functional Fitness Improvements
In addition to overall strength, Kinesis' training emphasizes functional fitness. In Seattle, Washington, Interbay's Denali Fitness director Tricia Murphy invested heavily in these machines after seeing the benefits in her clients. Unlike a traditional weight lifting machine in which the weight moves in one direction, Kinesis machines allow 360-degree movement, which not only increases strength but also improves balance and stability. The integration of neuromuscular and skeletal systems aims to improve muscle responsiveness with a low-impact workout. Kinesis machines train your muscles in integrated groups rather than isolation to improve muscle function and efficiency, making the equipment popular with active older adults. The International Council on Active Aging noted beneficial effects. The intricate exercise routines with small movements enhance coordination and stability, focusing on injury prevention and rehabilitation.
Writer Bio
Meredith C. has worked as a nutrition educator, chef and community health projects since 2011. She received a Bachelor of Science in nutrition from the University of Tennessee and is currently completing an MS/DI program in nutrition.