The Best Adult All-Purpose Bicycles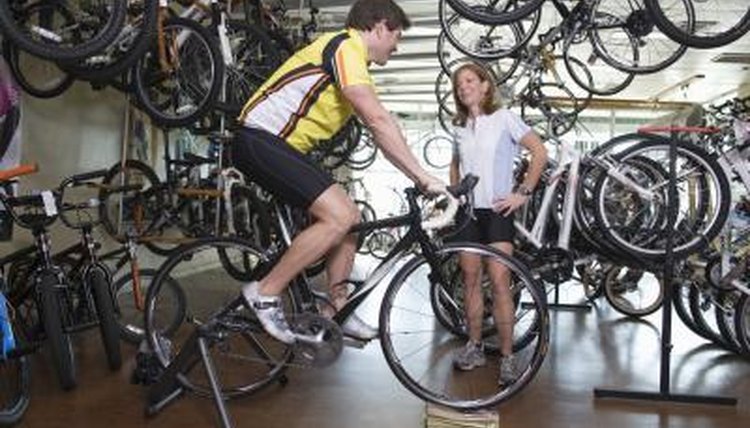 Few bicycles readily handle any potential purpose a cyclist may desire. Mountain bicycles traverse off-road trails, according to bicycle mechanic Sheldon Brown, while still easily running errands about town or riding down paved bicycle paths. Most road bicycles and touring bicycles cannot travel well through muddy, off-road conditions. Quality mountain bicycles include rack, fender and water-bottle cage mounts. Many inexpensive bicycles feature heavy suspension forks offering little actual benefit. Install mountain tires if desiring all-purpose riding. Smoother commuting tires work well on paved surfaces but offer little traction in dirt or mud conditions.
Common Pitfalls
Purchase a bicycle fitting appropriately. Proper bicycle fit increases efficient power delivery, states bicycle shop owner and fit specialist Peter White. Quality bicycles too large or small, even those offering excellent pricing, cause more trouble for cyclists than any other aspect of cycling. Bicycles typically increase in quality and decrease in weight as costs rise. Purchase the highest-quality mountain bicycle possible to experience the best ride. Many cyclists believe individual bicycle companies differ greatly, but most bicycles costing under $1,500 use steel and aluminum frames mass produced in Asian factories regardless of brand name.
Where to Buy
Many local bicycle shops, department stores and online mountain bike retailers sell mountain bicycles. Department stores typically carry bicycles of inferior quality to those purchased from bicycle retailers. Some mountain bicycle designs intend specific purposes, such as downhill or dual slalom racing. Do not purchase these bicycles with the intention of using them for all purposes. Dual suspension mountain bicycles often weigh more, cost more and perform worse on smooth paved surfaces than rigid or front-suspension mountain bicycles. Many local bicycle shops permit test riding before purchase, staff knowledgeable sales persons with cycle fit experience and offer repair services as well.
Cost
Inexpensive, heavy mountain bicycles designed for casual riders often cost under $150 in department stores. Quality mountain bicycles offering upgraded components, lighter weight and more durability generally sell from $300 to $500 in local bicycle shops. Mountain bicycles for cycling enthusiasts and racers often sell from $600 to $1,500. Quality dual-suspension mountain bicycles often sell above $1,000, though inexpensive, very heavy models exist below that price point. Bicycles costing above $1,500 typically feature design enhancements for competitive off-road cycling. Many costly bicycles prove difficult to mount accessories for true all-purpose use.
References
Writer Bio
Jonathan D. Septer offers more than a decade of professional writing experience and owns/operates Bone Machine Books in Kent, Ohio. A professional bicycle mechanic with more than ten years experience at various Midwestern shops, Septer studied at Kent State University, where he earned his Bachelor of Arts in English.