Water Yoga Exercises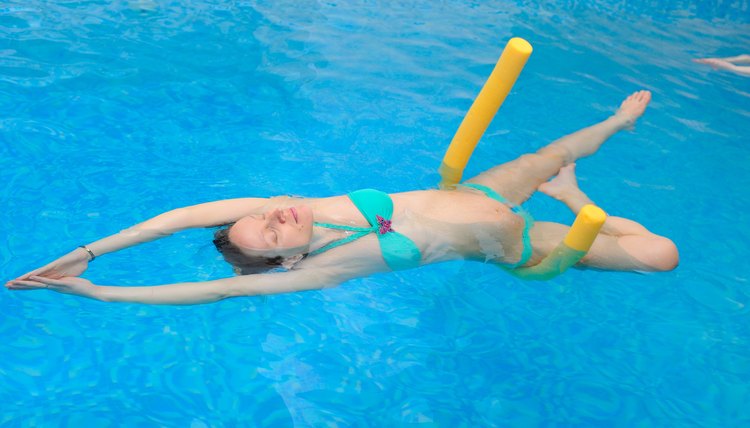 Yoga might be all about stretching, relaxing and getting in tune with your body, but it's hard to do that when your muscles are shaking and your joints are whining from holding those poses for too long. Doing yoga in water, however, is an entirely different story.
The buoyancy of water removes the weight from your joints. Therefore, those poses that felt so hard on land are much easier in the water. As a bonus, it will feel much easier to stay upright, even if you have a hard time balancing when you're dry.
Try out a few yoga poses in the water, and you just might find that the aqua-practice will boost your yoga ability in your next studio class.
Warrior II Pose
This classic dry-land pose will feel much easier to achieve when you're in the water. To do it, step your feet hip-distance apart and turn your right foot out so it's facing forward. Lift your arms up so they're perpendicular to your body, around shoulder-weight. Lean toward your right, bending your right knee but ensuring that it doesn't go beyond your toes. Sink your hips into the water, aiming to get your right thigh parallel to the pool floor. Engage your core and continue to breathe.
For a pool-specific version of this pose, trying the Flowing Warrior. While you're in Warrior II, release your arms from their rigid pose and let them flow like seaweed.
Boat Pose
With the help of pool noodles, this fairly difficult pose because much easier in water. Place those noodles lengthwise on either side of you; stretch your legs out in front of you. Push the noodles down into the water, engage your core and lift your legs up, aiming to get close to a "V" pose. While the water can support your legs, your core should keep you steady.
Standing Hand-to-Big-Toe Pose
This pose takes quite a bit of flexibility on land, but the buoyancy of the water will help you keep your extended leg afloat. Stand by the side of the pool, holding onto it for stabilization. Bring your outer leg up, bending your knee toward the chest. Next, grab your big toe and straighten your leg as much as possible. Once you feel steady, rotate the leg out, aiming to get it perpendicular to your body. However, stop when you start to feel discomfort. If you're ready, let go of the wall and attempt to balance. Release and repeat on the other side.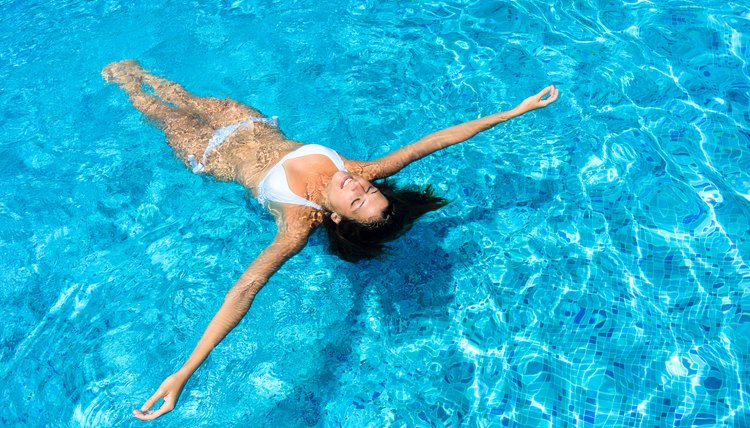 A noodle helps support your body weight in the pool.
Floating Savasana
Every yoga class ends with Savasana, and your pool session doesn't have to be any different. Let go, lay back and float in the water for as long as you need to feel relaxed. If you're having a hard time floating on your own, put a pool noodle under your back to stay afloat.
References
Writer Bio
Kelsey Casselbury is a freelance writer and editor based in central Maryland. Her clients have included Livestrong, School Nutrition magazine, What's Up? Media, American Academy of Clinical Chemistry, SmartBrief and more. She has a formal education in personal training/nutrition and a bachelor's degree in journalism from The Pennsylvania State University.