The Best Snowboard Brands for Beginners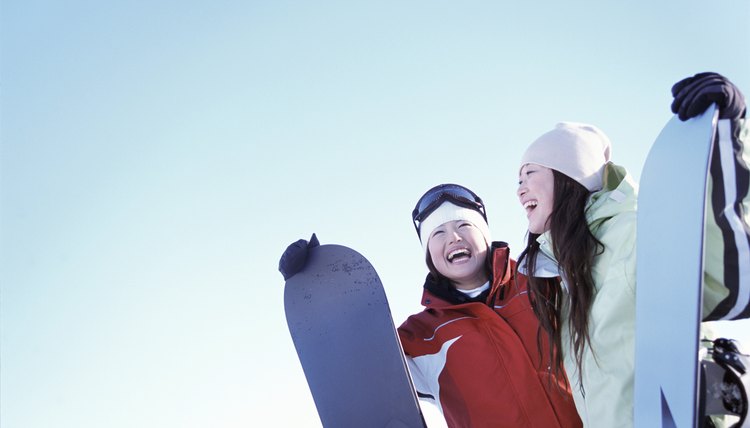 Beginners should look for snowboards that are flexible and forgiving, yet durable enough to hold up to the beatings that novices tend to put on their boards. When shopping for a snowboard, in addition to brand, consider quality, size, type and price. Purchase your board from a reputable snowboard outfitter with knowledgeable sales reps to ensure you find a board that's suitable for your body and needs. While general sporting goods stores may offer a small selection of boards, the brands they carry may be questionable and the staff may not be as privy to snowboarding topics as a snowboarding-specific shop.
Best Snowboarding Brands for Beginners
What's deemed the "best" snowboard may vary for each rider, due to differences in size, goals, budget and preferences. Snowboardingprofessor.com recommends selecting a board from a reputable manufacturer that emphasizes value -- i.e., one that may be slightly more costly upfront but will last over several seasons. Good beginner brands include Burton, K2, Rome, Ride, Arbor and Salomon, according to Snowboardingprofessor.com. SnowboardProCamp.com echoes those suggestions, and adds Forum, Nitro and Rossignol to the list of best snowboard brands for beginners.
Selecting the Proper Size
The length of a snowboard affects its performance, making size a crucial consideration when shopping for a good beginning board. Aggressive riders prefer longer boards, whereas novices and park riders prefer shorter boards. SnowboardProCamp.com recommends selecting a board that reaches the middle of your neck when placed upright in front of you. Also look for a board that features a deeper sidecut radius, which will enable you to turn more easily, suggests Recreational Equipment, Inc.
Novice-Friendly Types and Flex
Snowboard manufacturers and retailers categorize boards by type, rather than ability or experience level. Common types of boards include all-mountain, powder, park and freeride. Most beginners will want to select an all-mountain snowboard because it performs well on groomed slopes and parks and provides a good amount of flexion that benefits novice riders, explains REI. Beginner snowboarders will also need to consider boards' flex, or its receptiveness to twisting. Novice riders should look for softer boards that are easier to flex because it makes turning easier and they are considerably more forgiving than stiffer boards.
Price Considerations
Snowboards range in price from a couple hundred to a few thousand dollars. Beginners should select a board in the moderate to low price range, according to Snowboardingprofessor.com. Sub-$400 boards should suffice for most novices' needs. Factor your snowboard goals into your purchase, as well; you won't be considered a beginner for long. Snowboarding has a very fast learning curve so you'll want to select a board that will be able to accommodate your quickly developing skills, notes REI.
Writer Bio
Sunny Griffis, a certified performance technologist, is a fitness coach who has been a professional writer since 1998. Her work can be seen in online and print publications such as "Family Fun," "Cappers," "Rutherford Woman Magazine" and "Healthy Family Magazine." She holds a Bachelor of Arts in metaphysics from AIHT, and a CPT certification from NFPT.