Bungee Jumping in Arizona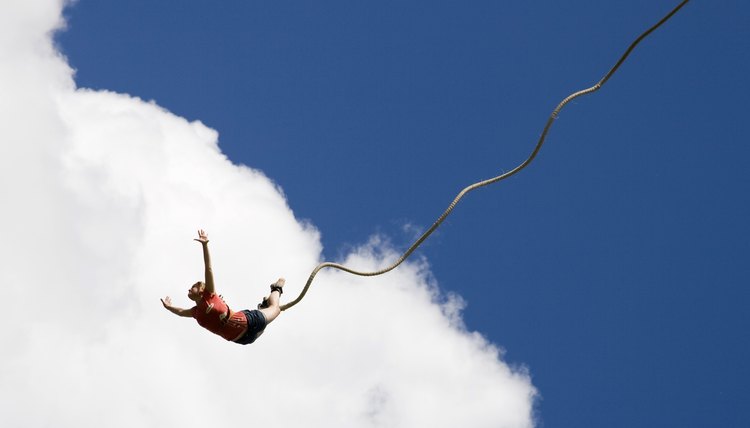 Dedicated bungee jumpers travel the country looking for the best jump spots. In Arizona, the Grand Canyon's Navajo Bridges are by far the top choice of bungee jumpers. Extreme sports such as bungee jumping are subject to fluctuating laws. If you're planning a bungee jumping trip to the Navajo Bridges, check with authorities about the current regulations.
Navajo Bridges
The two Navajo bridges look like twins, but one was built in the 1920s and the other in the 1990s. At 467 feet high and commanding a scenic view of the Colorado River, bungee jumpers enjoy hurling themselves from these bridges. Depending on current regulations, you may be able to join an organized jumping expedition or only individual jumping might be allowed. You'll find the Navajo Bridges near the Grand Canyon's northern rim. The bridges are a 4 1/2-hour drive from Las Vegas.
Fair Jumping
Many people experience their first jump at the Arizona Exposition and State Fair in Phoenix. Rather than organizing a trip to a remote location, fairgoers can make a spur-of-the-moment decision to try bungee jumping off the fair's 130-foot platform. The annual Arizona State Fair runs from late October to early November.
Colorful Bungee History
Perhaps you're trying to talk a friend into accompanying you on your bungee jumping trip to Arizona. You can reassure them with the sport's notable history. Long before anybody bungee jumped in Arizona, the Aztecs pursued a similar activity. In modern times, young men in 1950s Vanuatu tied vines around their legs and jumped from wooden platforms. In the late 1970s, a group formed calling itself the Oxford University Danger Sports Club. They got arrested for a 1979 jump from a 250-foot suspension bridge in Bristol, then embarked on an international series of jumps from bridges, cranes and hot-air balloons. While most aficionados jump for the thrill, some participate in contests where judges score their mid-jump acrobatics.
Bungee Jumping Considerations
Safe bungee jumping takes more than a few cords and a bridge. Newbies should jump with a certified professional. Check, double and triple check your helmet and harness. Arizona can get blistering hot, so avoid jumping in the hottest part of the day. Bring plenty of water and snacks. Bungee jumping is not appropriate for people who are pregnant, have back or neck injuries or panic disorders. Ask your doctor if you suspect bungee jumping might aggravate your medical condition.
References
Writer Bio
Teresa Bergen writes about fitness, health, yoga, travel and the arts. She is the author of "Vegetarian Asia Travel Guide" and has written hundreds of articles for publications online and off. Bergen also teaches yoga, spinning and group fitness classes, and is an ACE-certified personal trainer.