Weider 2980 X Home Gym Review
In his 93 years of pumping iron, Canadian bodybuilder Joe Weider founded a fitness empire built on magazines with tens of millions of readers, his own International Federation of Body Building, muscle-pumping pancakes (really) and a line of at-home gym equipment.
Part of that line is the Weider 2980 X Weight System, the company's entry-level all-in-one home workout station. But staying fit means staying smart. Before you jump into chest flies and preacher curls on a 2980 X, warm up with a well-informed opinion.
The Specs
Like most all-in-one weight stations, the key draw of Weider's 2980 X is the number of exercise configurations it can accommodate. In this case, that number is six:
High pulleys
Low pulleys
Chest presses
Chest flies
Leg development
Preacher curls
Out of the box, this home gym comes with an 80-pound weight stack and offers up to 214 pounds of resistance. Given a relatively low max weight, this machine works best for those who want to tone up at home rather than hardcore bodybuilders looking to put on lots of mass.
It also comes with an instructional exercise chart to help you get your at-home workout on. In terms of logistics, the 2980 X's steel-tube framing weights about 183 pounds and requires floor space measuring 74 by 28 inches.
Consumer Critics
Since its release in 2012, plenty of online shoppers have chimed with their take on the Weider 2980 X. As of 2016, 68 user across Amazon, Kmart and the Home Shopping Network have rated their purchase at a collective average of 3.13 out of 5 stars.
Users note that the machine offers plenty of functionality — particularly for chest and arm exercises — while sporting a compact size and a relatively modest price. However, some report difficult assembly and other point out that the machine's minimum amount of resistance is 58 pounds, which could pose a problem for users who need lower resistance.
An Expert's Opinion
Over at Garage Gym Builder, personal trainer and former competitive powerlifter Jim Roose gives the Weider 2980 X high marks for its versatility, pointing out that the included ankle strap can open up dozens of potential exercise variations.
With its entry-level price and moderate resistance range, Roose says that the "gym does a great job at simplifying things," and calls the pulley-based workout station "great for any beginner."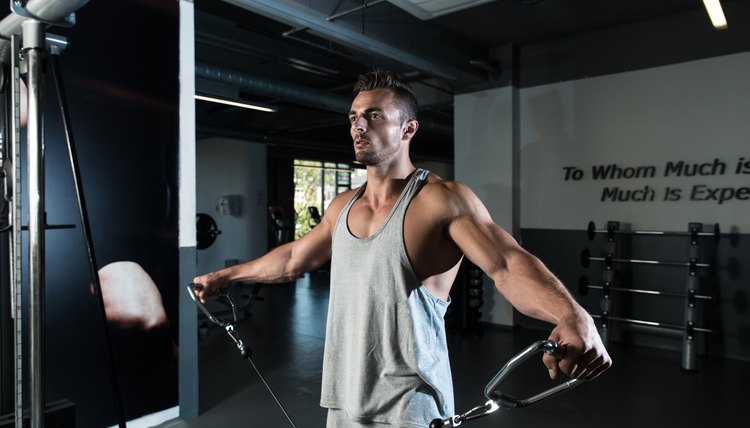 This home gym promises "everything you need to start your home strength training."
The Home Gym Question
As with any major fitness-oriented purchase, the mileage you'll get from the Weider 2980 X depends on your workout goals, experience level and personal preferences. But when dealing with home gym set-ups, some considerations are pretty much universal.
All-in-one home gyms like the 2980 X offer more privacy and convenience than gym memberships, and at a lower long-term cost, but they lack the often-inspiring camaraderie of shared workout spaces, not to mention the variety of equipment and added expertise of on-site trainers.
Speaking to the BBC, Nick Mitchell of Ultimate Performance brings up an essential point: "Most people with home gyms start off gung-ho and fizzle out." Whether you go with a 2980 X or a similar model, consistency is crucial; these machines have genuine potential to help you tone up a wide variety of muscle groups, but they can't do that if they end up forgotten in the long lost land of your basement.
Weighing in on Weider
Whether you've used the 2980 X or just want to add your voice to the home gym versus fitness club debate, share your experiences with us below. Who knows — your opinion might just inspire the world's next fitness mogul.
References
Writer Bio
In addition to fitness experience including USFCA fencing discipline, stage combat, track and equestrian training, Dan has contributed health and fitness-oriented content to AZCentral, SportsRec, JillianMichaels.com, ModernMom, The Nest and more.