How to Design a Yoga Room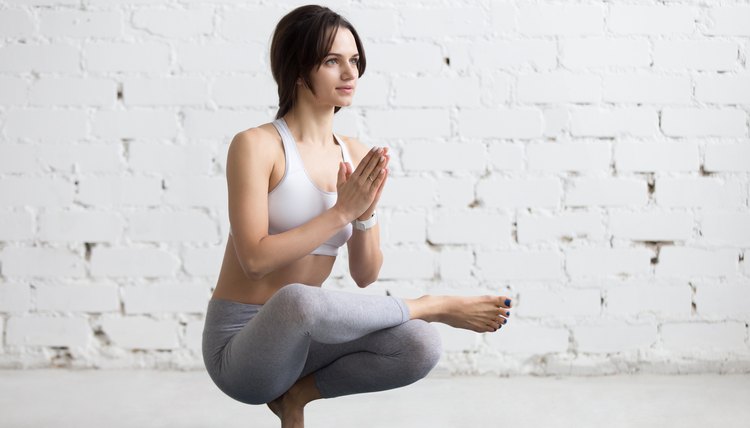 You've scoped out a space, and you're making the commitment to your home yoga practice. Now you want to really make the room special, with the right mix of energizing and calming, meditative and inspiring. You don't need to do anything drastic to design the perfect yoga room, but a few steps are essential. After that, it all depends on your budget and your particular vision.
Clear Out the Clutter
This is absolutely the first step you should take when designing your yoga room. Not only will clutter distract you and limit your ability to move, but it can also be spiritually stagnating. The best thing to do is to to take everything out of the room, give it a good scrubbing with natural cleaning products and start with a clean slate.
Consider the Flooring
You need an even, stable surface on which to practice yoga. Ideally, you'd have a hard floor and a good yoga mat to place on top of it. However, don't go ripping out your carpet just yet. Short-pile carpeting can be firm enough to practice on, and it provides extra cushioning if you fall. Just make sure it's clean and fresh, free of pet hair and dust.
A firm yoga mat can provide extra stability. on carpet. On deeper pile carpet consider creating a firm surface using interlocking rubber gym mats or a portable yoga floor.
If you have the budget and decide to put in hard floors, choose natural materials such as bamboo or cork. These materials are grounding and more environmentally friendly than stone or hardwood floors.
If you really want to splurge, consider installing radiant heat under your flooring. You can create your own hot yoga studio, or just take the chill off a cold morning practice.
Choose Your Color Palette
A coat of paint is an inexpensive way to add depth and visual appeal to a room and to really make it your own. Although some experts recommend choosing calming colors like warm whites or cool blues, there's no reason you can't go with bright yellow or turquoise if louder colors make you feel creative and happy.
Go to the paint store and choose a handful of samples in a range of hues and tones. Take them home and look at them in daylight and lamplight. Narrow it down to two or three choices and get some paint samples. Paint a small section of wall with each of your options, take a day or two to see what speaks to you and then make your final decision.
Make sure your paint choice is non-toxic. Many paint manufacturers have eco-friendly product lines that can help you cultivate and protect your own health and the health of Mother Earth.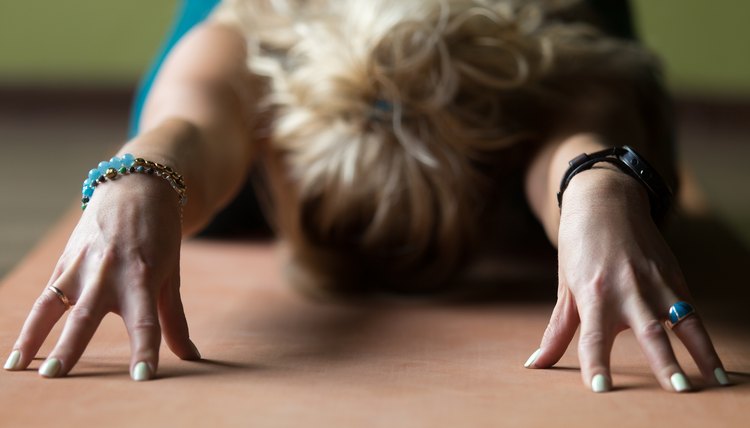 Less is more when designing a yoga room.
Set the Mood With the Perfect Lighting
Harsh fluorescent lighting or bright sun streaming in your eyes can mess up your vibe. Gauzy curtains filter light, letting in just the right amount and allowing you a view of trees, birds and other elements of nature. Overhead lighting with a dimmer switch or lamps with three-way switches give you control over the level of light; you might want brighter lighting for practicing power Vinyasa, but dimmer lighting for a restorative or meditation practice.
Decorate Mindfully
Less is more when it comes to decorating your yoga room. Don't clutter it up with a lot of meaningless tchotchkes from the local big box store. Think about what has meaning for you. If there's a particular Eastern culture you feel connected to, perhaps choose a few visually appealing pieces to add interest to the room. If you have spiritual or religious beliefs, you can choose wall hangings or sculptures that deepen your devotion. You can even create a mini-shrine dedicated to your God.
Add in Aromatherapy
Delight all your senses in your carefully designed yoga room. Incense can relax or energize you depending on the scent, but it all comes down to what appeals to you. Try a few different scents to figure out what you like for different moods, practices or times of day.
For guided meditation, relaxing background music or pumped up beats for power yoga, wireless speakers that connect via bluetooth to your phone or tablet are a nice touch. Another option to please your sense of hearing is a small tabletop fountain that plugs in and creates the natural sound of cascading water.
Lastly, for evening or early morning practices one or several candles can be placed in safe spots around the room for a warm, flickering glow.
Select Your Props
Although you don't need much more than a yoga mat to practice, props can make your practice more accessible and comfortable. Some can even further your design vision.
A high-quality mat is a must. It will provide optimum stability and cushioning and last for years to come. Blocks, straps, blankets and bolsters are other props to consider purchasing. You can also repurpose items you already own to serve the same purposes, such as a long scarf as a strap, an old blanket and a few pretty pillows. Blocks are the one item you want to purchase specifically because a uniform shape and sturdiness are important attributes.
A mediation pillow is a nice touch to support you in sitting. Meditation pillows come in many different shapes and designs, so choose one that adds to the overall design of your room.
References
Writer Bio
Jody Braverman is a professional writer and editor based in Atlanta, GA. She received a Bachelor of Arts in English from the University of Maryland, and she is a certified personal trainer, fitness nutrition specialist, and yoga teacher. She has written for various online and print publications, including Livestrong.com, SFGate, Healthfully, and Chron.com. Visit the writer at www.JodyBraverman.com.