Instructions for Bell Bicycle Trunk Racks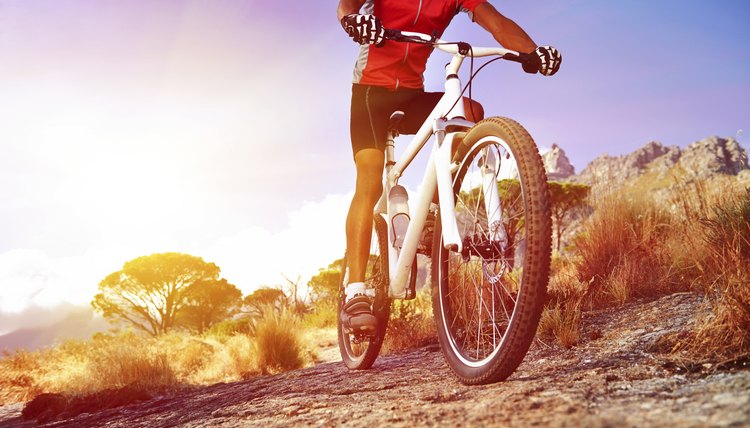 Cycling is a great outdoor activity that provides good cardiovascular exercise. Investing in a bike rack is a great way to transport your bike. Bell manufacturers bike racks that are easy to mount to your car trunk, and you can store a Bell rack in your trunk when you're not using it. With some instruction, you should be able to install the Bell bike rack in as little as five minutes.
Unfold and Position
Remove the bike rack from the packaging and unfold the rack by pulling the two tubes apart, like you would with the legs of a folding chair. You'll see a Bell logo on one side of the rack. Turn the rack so that the Bell logo is facing up. If you're holding it in the proper position, the two tubes will be at the bottom of the rack.
Connect Upper Straps
Locate the two straps marked "upper." These are the first straps you need to connect to your car's trunk. Position the rack so that the two tubes are facing away from the car and the Bell logo is facing up. Rest the rack toward the edge of the trunk and grab the two "upper" straps. Hook the straps into the hinge of your trunk and then pull the adjuster to tighten the straps.
Attach Lower and Side Straps
Locate the four remaining straps. Two are marked "lower" and two are marked "side." Attach the left-lower strap to the bottom of your trunk on the left side and the "side" strap to the left side of your trunk. Repeat this process for the right section of your trunk, securing the corresponding straps. Once in position, pull the adjuster to tighten the straps so that they are securely attached.
Mount Your Bike
Check that all of the straps are tight. Then, you're ready to mount your bike. Unfasten the Velcro straps at the top of the rack, lift your bike up and rest it on the bike rack. Secure the Velcro straps around the frame of your bike. After mounting the bike, double check that the straps are still secure. The added weight of the bike may slightly loosen the straps. If you're going on a long trip, it's a good idea to check the straps each time you stop for gas.
Writer Bio
Janet Renee is a clinical dietitian with a special interest in weight management, sports dietetics, medical nutrition therapy and diet trends. She earned her Master of Science in nutrition from the University of Chicago and has contributed to health and wellness magazines, including Prevention, Self, Shape and Cooking Light.